What Will Peter Dinklage Do After His Role As Tyrion Lannister?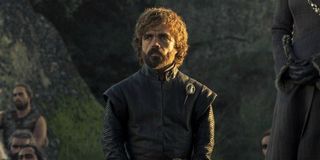 When talking about Game of Thrones, it's hard not to mention Peter Dinklage. The actor's gained three Emmy awards for his portrayal of Tyrion Lannister on the long-running show, and has delivered some of the series' most powerful moments throughout its eight-season run. Suffice to say there should be plenty of GOT fans after the series is over eager to see the next thing Dinklage does in Hollywood.
So, what's Peter Dinklage up to after Game of Thrones? Here's a breakdown of the roles he'll be taking on post-Tyrion Lannister, as well as some other details on how he plans to move forward following his stint on the award-winning HBO series.
The Angry Birds Movie 2
Peter Dinklage is set to reprise his role in the sequel to The Angry Birds Movie, in which he played the legendary -- but also goofy -- Mighty Eagle. The Angry Birds Movie 2 will find pigs and birds working side by side, as the pair take on an icy threat encroaching upon their territory. Dinklage is just one of the many famous faces lending his voice to the sequel, which has a whole heap of big names involved.
For those who missed the first movie, Peter Dinklage was the exact opposite of Tyrion Lannister in the role. Mighty Eagle was the protector of Bird Mountain, but the characters soon realized that time had made him lazy, fat, and overall not very helpful in the fight against the pigs. Perhaps he'll be of more use in the sequel, but if he isn't, at least kids know the core birds are capable of getting the job done without him.
Rumpelstiltskin
Peter Dinklage is believed to be involved in a fairy tale adaptation of Rumpelstiltskin. News of of the project first surfaced back in the summer of 2018; although details were rather scant on the movie, it was reported that it would be an adaptation of the Brothers Grimm fairy tale. A Monster Calls' screenwriter Patrick Ness was attached to write the script, and Peter Dinklage was believed to star and produce the feature for Sony.
Since that news first broke, there have been no updates on a release date, or further details about the movie. We really don't even know what role Peter Dinklage will play, although with him holding the starring role one would think he's playing the title character. For now, audiences should be excited for this, but perhaps keep it measured in case the movie doesn't foray into production after all.
The Thicket
Peter Dinklage is attached as one of the main stars of the book The Thicket, which follows a kid named Jack who's had some bad luck. He lost his grandmother in a farm accident at age 5, and then during the events in the movie, his grandfather will be murdered by bank robbers who also kidnap his sister. Jack is desperate to save his sister, and enlists the help of a bounty hunter named Shorty, an ex-slave named Eustace, and a woman named Jimmie Sue.
Dinklage will play Shorty in the turn-of-the-century drama, which is set in East Texas. The adaptation just signed on Blitz and Aftermath director Elliott Lester, and development on the project is still ongoing. Of the upcoming projects that Peter Dinklage is signed on for, this is one of the most exciting while still shifting away from the type of character he established as Tyrion Lannister.
The Croods 2
After years in limbo and an outright cancellation, The Croods sequel is back on the movie slate. Peter Dinklage wasn't a part of the first adventure, but will come into the sequel that will find the Croods encountering a new family that will likely change their lives as they know it. The Tyrion Lannister actor will come into the movie as Phil Betterman, who is presumably a member of that new family.
With a name like Betterman, one would think Peter Dinklage's role will set him up as an antagonist of sorts to the Crood family. Perhaps the last name is a hint toward some kind of assumed superiority over the Crood family? We can only speculate for now, as The Croods 2 isn't set to release until the holiday season in 2020.
The Dwarf
Peter Dinklage may be done with Tyrion Lannister after Game of Thrones, but he's not done with period pieces that take place in a medieval setting quite yet. The Dwarf is a tale based on a "Machiavellian dwarf" who manipulates the prince he works for and brings his kingdom to the edge of destruction. Basically, this is like Season 7 Tyrion Lannister except Dinklage's new character won't screw up every strategic move he makes.
This is one of the fresher projects on Peter Dinklage's list, but Session 9 and The Machinist director Brad Anderson is already on board to direct. Obviously, the setting will be a draw for Game of Thrones fans eager to see the actor in another role that's centered around kings and queens. His character sounds way different than Tyrion Lannister, which would be cool to see considering he hasn't gotten a chance to be more of a villain on the HBO series.
More Work Behind The Camera
Peter Dinklage told Vulture in 2018 that once Game of Thrones ends he'd like to do more work behind the camera. Specifically, he'd like to be a part of the development side of things and help movies get made with his production company. In his words, acting is fun, but so much of the movie is figured out by the time an actor is cast in the production.
With that said, the Tyrion Lannister actor said he's not going to stop his craft anytime soon. If a talented director or sweet script slides his direction, Peter Dinklage will be there ready to give it his all. Of course, he would love if that sweet script happened to be in his possession and he was a part of the process in getting it made as well.
Keep up with all of Peter Dinklage's major moves following Game of Thrones with CinemaBlend, and check up on other big headlines in the world of movies, television, and pop culture.
Your Daily Blend of Entertainment News
Mick likes good television, but also reality television. He grew up on Star Wars, DC, Marvel, and pro wrestling and loves to discuss and dissect most of it. He's been writing online for over a decade and never dreamed he'd be in the position he is today.