The 10 Least-Viewed Scripted TV Shows Of The 2018-2019 Season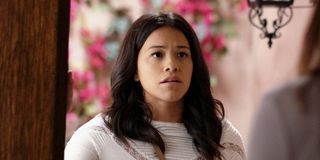 The 2018-2019 television season has been full of big headlines, surprising cancellations, and revivals that have been polarizing to say the least. Some shows have thrived under those conditions, managing to find both a large following and praise from critics, while others have only maintained one form of success without the additional accolades. Then there are those that have floundered to find either.
Which brings us to the question: which shows were on the lowest end of the viewership spectrum in the most recent 2018-2019 television season? That's what we're looking at today, recognizing that some of the following series are critically acclaimed, with some not so much, and there's a mix of new and older series as well. These shows didn't gain too many eyeballs in their most recent seasons, which has led to different outcomes, although surprisingly no sudden cancellations that weren't already expected.
Let's kick things off with a blast from the past. Or a blast into the past, rather. (Note that all viewership and demo rating stats were tallied using a show's Live + 7 delayed viewing totals.)
10. Legends Of Tomorrow
Legends of Tomorrow is thankfully the only Arrow-verse show to make the bottom rung in TV viewership. Full disclosure though, Arrow didn't beat it by much, with three shows separating them on THR's extensive breakdown. Legends of Tomorrow lost 32% in viewership from the prior season, netting 1.68 million viewers on average during Season 4. It also has a 0.6 rating, which isn't so great, but Season 5 was already ordered, and with the Arrow-verse chugging also along elsewhere, there's no reason for fans to worry.
9. Charmed
When it was announced that Charmed was getting a reboot, fans were certainly split on the idea. That split appears to reflect in Season 1's viewership, which averaged out to 1.62 million viewers through Season 1. The 0.6 rating isn't too great either, although there is hope that more fans of the original series may be swayed into checking out the quasi-reboot. Then again, with original stars still speaking out on The CW's update, maybe don't count on that.
8. Black Lightning
The second CW superhero series to make the list, Black Lightning had a rather harsh drop off in viewership between Season 1 to Season 2. In total, the series lost an average of 43.4% of its initial viewer base, which gave the sophomore season an average of 1.62 million viewers. The show's key demo rating took a hit as well, and Season 2 maintained a 0.6 average after a 40% tick down from the first year.
7. The 100
Low turnout isn't necessarily a new trend for The 100, which averaged around 1.6 million for Season 5, which also shared the 0.6 rating of the above shows. That's nearly a 20% drop in viewership from the season before. The series returned for Season 6, and to the surprise of many, was also confirmed to be returning for Season 7. Though The CW has pulled the plug on shows that performed better, but it's clear The 100's dedicated fanbase is worth keeping it around.
6. Jane The Virgin
Ranking in the bottom 10 of television's least-viewed shows isn't the best way for any show to end its impressive run on television, but it's not like Jane The Virgin has much to be ashamed of. Season 5 earned a 0.6 rating and an average of 1.35 million viewers, and the series will conclude just five episodes short of 100. Churning out 95 episodes is a feat many shows would envy, even if many of them weren't enjoyed by mass crowds.
5. All American
All American Season 1 debuted to 1.06 million viewers with its series premiere, and while later episodes were able to climb higher, the audience leveled off enough to settle the sports drama back to the 1.06 million mark for its season average. Viewed along with its .4 rating, one realizes there's certainly room for improvement as this show rolls into Season 2. All American has been on Netflix since Season 1's ending, so it'll potentially pull a Riverdale and gain a lot of viewers ahead of Season 2.
4. iZombie
After five seasons on The CW – well, four and a half at this point – iZombie is finally coming to its end. The series is currently working with an audience that's 23.5% smaller than that of its previous season, which brought its average viewership down to 1.01 million. Things could be slightly worse, of course, and while a 0.4 rating isn't much to write home about, other dramas have been cancelled on more discouraging terms.
3. In The Dark
In The Dark's Season 1 ratings have not been good, which is usually a death sentence for a freshman series with a singular concept such as this. Luckily, The CW is a bit more lax on giving the ax to lesser-appreciated shows, so In The Dark will still head on to Season 2 despite its 0.96 million viewership and 0.2 rating. Things can always improve in the future, and they probably should for this blind protagonist, because even The CW can only be so forgiving.
2. Dynasty
The original run of Dynasty was a huge one, and the feisty drama was one of the television's biggest water-cooler shows. The same can't be said for its revival (which has gotten criticism from former cast members), which has faced issues in maintaining its audience since it kicked off. The 20% drop in viewership from Season 1 meant Dynasty was only netting 0.8 million viewers on average in Season 2. It also dropped a tenth of a point in the ratings, bringing things down to a 0.2, which is just shy of being the worst.
1. Crazy Ex-Girlfriend
For everyone's benefit, I won't be singing this one. This top (or bottom) entry shouldn't come as a surprise to those who've followed TV viewing patterns in recent years, as the consistently renewed Crazy Ex-Girlfriend has always had a monumental struggle reaching large-scale audiences. That was still the case in its final season, which averaged a paltry 0.2 rating and only got watched by .57 million viewers. Luckily, the love from critics didn't wane, with the fanbase celebrating its high-note ending after years of watching Rebecca Bunch battle her quirks and mental illnesses.
So, what do all these shows have in common? If one hasn't caught on to the pattern yet, all of these shows happen to air on The CW. While that's not the best look for the network, it's also worth mentioning that the network's heaviest hitters like The Flash and Supernatural are still doing well enough to stay atop this list's dregs, although they're still nowhere near the top. Will The CW fare better this coming fall season?
As the fall season approaches, will any of these shows find themselves in the least-watched list for 2019-2020? CinemaBlend will keep an eye out to see if that's the case, so stick with us for that and more on the world of movies and television.
Your Daily Blend of Entertainment News
Mick likes good television, but also reality television. He grew up on Star Wars, DC, Marvel, and pro wrestling and loves to discuss and dissect most of it. He's been writing online for over a decade and never dreamed he'd be in the position he is today.
Your Daily Blend of Entertainment News
Thank you for signing up to CinemaBlend. You will receive a verification email shortly.
There was a problem. Please refresh the page and try again.