Did America's Got Talent Give An Unfair Advantage To These Acts?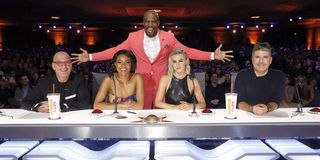 (Image credit: NBC)
America's Got Talent is one of the few consistent sources of fun on the small screen in the summer, when the primetime pickings can be pretty slim. Unlike shows like The Voice and America's Got Talent, AGT hosts a wide variety of acts, although some don't have a whole lot of what many of us would call "talent." The auditions round of Season 14 is almost over, and AGT celebrated the 4th of July week with a "Best Of" compilation of this season's greatest auditions.
The two-hour compilation -- or, really, clip episode -- was a fun way to pass an evening and relive some of the most memorable performances of the last couple months, but it also makes me wonder: did America's Got Talent give the acts that appeared in the "Best Of" installment an unfair advantage heading into the next stages of competition?
All 11 acts that were showcased in the "Best Of" episode were already through to the next round of competition, and some of them are even set for the live shows thanks to winning a golden buzzer. In fact, Julianne Hough's golden buzzer is the only one not to appear, and her golden buzzer doesn't really count anyway. So, all of these acts were already still in the running for the top prize. Here's who appeared:
Now, I want to be absolutely clear that all of these acts are phenomenal, and I wouldn't be upset if any of them took the top prize, but the question is if they now have an unfair advantage due to the extra exposure of being showcased in the "Best Of" compilation already. These acts could be the freshest in viewers' minds when the time comes to actually take the power away from the judges and vote themselves.
Are there acts that are better than these 11 or at least as good that were now showcased? That's up for debate. Comparison is subjective on a show like America's Got Talent, especially considering the acts compete in wildly different categories for the same $1 million prize.
How can you compare a danger act to a violinist to a troupe of young dancers? Did the wild crowd reaction already impact the judges (and Howie Mandel in particular) to be more impressed with Joseph Allen than they would have been without a bunch of his classmates in the audience? Is it exposure and hype in the end that will decide the champion? Will it be who goes viral the fastest and most?
Simon Cowell Rudely Interrupted One America's Got Talent Contestant, But It Actually Helped
If going viral is key, then these 11 acts definitely got the extra exposure. It makes sense that the golden buzzer winners already have advantages over the competition, as they don't even need to take the stage again until the live shows, although Joseph Allen (following his Dirty Dancing-esque lift with Terry Crews) shared how the golden buzzer comes with its own unique pressures.
Of course, it's entirely possible that none of these acts win, and any advantage the "Best Of" episode gave them won't last. Who knows? Maybe all the purpose the "Best Of" compilation will have served in the end is entertaining viewers in an especially empty week of television ahead of the 4th of July. Only time will tell who wins AGT Season 14.
New episodes of America's Got Talent air Tuesdays at 8 p.m. ET on NBC. The summer TV lineup has more shows set to premiere in the not-too-distant future, so be sure to stay tuned to CinemaBlend for the latest news.
Resident of One Chicago, Bachelor Nation, and Cleveland. Has opinions about crossovers, Star Wars, and superheroes. Will not time travel.
Your Daily Blend of Entertainment News
Thank you for signing up to CinemaBlend. You will receive a verification email shortly.
There was a problem. Please refresh the page and try again.