America's Got Talent: Watch A Contestant Pull Food From Her Bra To Feed The Judges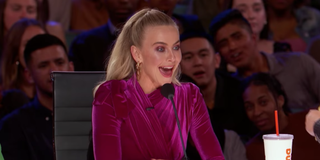 Spoilers ahead for the July 9 episode of America's Got Talent on NBC.
America's Got Talent can be a mixed bag when it comes to the actual talent, and the July 9 episode featured everything from dazzling married acrobats and a Golden Buzzer-winning young Broadway fan to a kissing couple and a flopped singer whose whistling wasn't enough to save him. One of the most notable acts of the night gets points for sheer nerve, as comedian Kara Kimbrough -- a.k.a. Kara with a K -- pulled a burger and fries out of her bra to try and feed the judges.
Well, she was definitely the only who tried that particular move in Season 14 so far! Kara with a K's bold act struck the right chord with the judges, although they didn't exactly dig into the food she brought them. Take a look at the act! The food isn't until toward the end, but it's definitely worth watching the build:
Honestly, as funny as Kara with a K was in her act, I think Julianne Hough proved her mettle as newcomer really got the punchline after Kara gave her a handful of fries out of her bra. In an aside to fellow new judge Gabrielle Union, Julianne can just be heard saying "They're sweaty!" while clearly trying very hard to keep her smile on and her hands full of bra fries.
Julianne Hough is the one who got the most food out of the act, although I didn't see her snagging any of those fries for a snack. While Kara with a K dumped most of the fries into Julianne's hands, she had a handful left for Gabrielle Union. Poor Howie Mandel and Simon Cowell (who didn't rudely interrupt somebody this week) only got a fry each. Somehow I doubt that the snub kept them up at night!
While Julianne Hough unintentionally got arguably the funniest line at the climax of the food joke, Kara with a K certainly earned some laughs when she stole Simon Cowell's drink from him. It got Julianne genuinely laughing again, and who can blame Kara for being "parched" at that point?
After rummaging around in her bra, doing a split in high heels that looked like it was going to break at least some part of her body, falling to the ground, and telling jokes, it makes sense that she could use a drink! So could Julianne Hough, I'm guessing.
Did America's Got Talent Give An Unfair Advantage To These Acts?
Does Kara with a K have what it takes to become America's Got Talent Season 14 champion? The vast majority of AGT winners over the years have been singers, and the champion comedians have generally had another side to their talent, such as ventriloquism. The latest winner of AGT and AGT: The Champions was a magician.
Is there an audience for a comedian champion? Kara did get the four stamps of approval from all four judges to move to the next stage of Season 14, so we can't count her out just yet.
New episodes of America's Got Talent air Tuesdays at 8 p.m. ET on NBC.
Resident of One Chicago, Bachelor Nation, and Cleveland. Has opinions about crossovers, Star Wars, and superheroes. Will not time travel.
Your Daily Blend of Entertainment News
Thank you for signing up to CinemaBlend. You will receive a verification email shortly.
There was a problem. Please refresh the page and try again.