Varys Actor Clarifies Those 'Negative' Comments About His Game Of Thrones Ending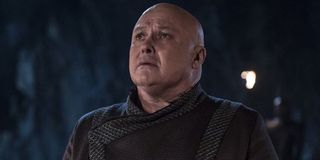 There's been a lot written about the way Game of Thrones wrapped its final season, both negative and positive. Seemingly in league with the latter were some quotes a few months ago from Conleth Hill, who played Varys on the HBO fantasy drama -- and spoilers! -- before his betrayal by Tyrion and ultimate demise.
A few months ago, Hill spoke out about feeling "inconsolable" about Varys dying on the show and the way his storyline panned out. The quotes at the time indicated Conleth Hill didn't seem to be too happy about the way his character was sidelined there at the end and 'became more peripheral' as time wore on. Now, however, he says the way he was portrayed in relation to those quotes wasn't exactly what he was attempting to get across in the initial interview, noting,
Speaking at San Diego Comic-Con 2019, Conleth Hill took the opportunity to joke about the now-famous Game of Thrones petition, but also to clarify that he was honest with his feelings at the time after filming the episode where Varys was killed off of Game of Thrones. Hill's final episode featured Varys between a rock and a hard place. He ultimately did what he felt was right as he believed Dany to be dangers, but he was betrayed by his intellectual companion Tyrion in the process.
To be fair, the actor's initial comments did indicate he was "fine" with the changes to Varys' importance and mostly loved his time on Game of Thrones, but it seemed clear at the time there were some frustrations there as well. So perhaps the 'negative' perception that came with that first interview was not the correct tone.
Game Of Thrones' Varys Frustrated By Being Sidelined In Final Seasons
Honestly, I personally didn't feel like any of the earlier comments read as over-the-line negative or full of untruths, but now Conleth Hill seems to feel he needs to make certain people understand he did have a positive time during his Game of Thrones run.
During the course of the Comic-Con 2019 panel, Conleth Hill also said he doesn't feel the hate toward the finale was quite as bad as its been made out to be. You can look into what he and the rest of the cast onstage said about the ending to Season 8 as well.
Game of Thrones has been the subject of plenty of conversation since the series officially wrapped earlier this summer. The show is one of the most popular TV series of all time and came around when peak TV was just beginning to grow. No matter how fans feel about that ending, Varys got a lot of great one-liners and moments with many characters throughout the drama's run, and there's no denying he was one of the most intriguing characters on his show.
His demise was felt keenly, and that's probably the important thing.
Reality TV fan with a pinch of Disney fairy dust thrown in. Theme park junkie. If you've created a rom-com I've probably watched it.
Your Daily Blend of Entertainment News
Thank you for signing up to CinemaBlend. You will receive a verification email shortly.
There was a problem. Please refresh the page and try again.