Rosario Dawson As She-Hulk? Marvel Star Has A Great Response To Fan Art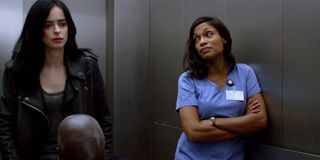 With new Marvel TV show announcements come a whole lot of fancasting. It can be fun to decide in advance which actors could play beloved comic book characters. At Disney's D23 Expo, Marvel Studios president Kevin Feige took to the stage and announced a host of new Marvel series to premiere in its new format on Disney+, including the upcoming She-Hulk. Rosario Dawson was recently fancast in the role of Bruce Banner's famous and less angry cousin, Jennifer Walters. As it turns out, the actress is open to the idea.
Rosario Dawson is not a stranger to the Marvel universe. For several years, the actress played Claire Temple and appeared throughout many of Marvel's Netflix shows, including Daredevil and Luke Cage. She also had a role in the series The Defenders, proving herself not only as a valuable asset to the team, which included Jessica Jones and Iron Fist, but as a grounded character with a good head on her shoulders. Signing on for another Marvel project could be a good fit for the actress.
As for what Rosario Dawson could look like as She-Hulk. Popular fan artist, Bosslogic envisioned her in the role, drawing her with green skin while wearing She-Hulk's famous super suit. The fanart drew the attention of the actress and she posted it to her personal Instagram account. "I'd work out…" she enthusiastically wrote, implying that she would be more than willing to go to the gym and work hard if she's ever cast in the role.
Marvel has a tendency to recast actors in entirely new roles. Most recently, Gemma Chan, who played Minn-Erva in Captain Marvel, was announced to be playing Sersi in The Eternals. Chan's character seems to be entirely separate from her previous role, so there should be no overlap.
Mahershala Ali is another example of a Marvel actor taking on two different roles in the same world. Ali played Cottonmouth in Season 1 of Luke Cage. At San Diego Comic-Con, however, it was revealed that he'd been cast in the Blade reboot. These examples set a precedent, so Rosario Dawson taking on a new role in the same universe is entirely possible.
It's still early days though. Besides unveiling the logo, there isn't much information about She-Hulk or what the show's story will be about. As a character, Jennifer Walters blends into society much better than her cousin. She's a lawyer and has a less potent version of the Hulk's serum running through her veins, so she's able to balance both sides of her persona more easily than Hulk was early in the MCU. She-Hulk also has a great sense of humor, so there is plenty to look forward to when her solo series finally premieres.
Disney+ will be available on November 12 and the streaming service already has an impressive line-up of shows that include The Falcon and the Winter Soldier, WandaVision, and Ms. Marvel. Be sure to check out our full guide to the service.
Your Daily Blend of Entertainment News