Falcon And Winter Soldier: Marvel Fans React To Sebastian Stan's Short Hair For Disney+ TV Show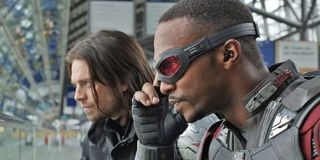 The Falcon and the Winter Soldier will be one of the first Marvel shows available to stream on Disney+ and a new poster out of the D23 Expo already highlights a significant change for one of its characters. That's right, Bucky Barnes is sporting a fresh, short new haircut. The floppy, shoulder-length hair he had in films like Captain America: Civil War and, more recently, Avengers: Endgame is gone. Unsurprisingly, fans had strong reactions to Sebastian Stan's new look.
The series, which is set to take place after the events of Avengers: Endgame and Captain America's departure from the MCU, sees Anthony Mackie and Sebastian Stan reprising their roles as Sam Wilson/The Falcon and Bucky Barnes/Winter Soldier, respectively. The poster has a buddy-cop vibe, which is indicative of Sam and Bucky's friendship.
Bucky's new hairstyle is a bit different than anything we've seen before. After all, his character has been through the ringer and his hair, usually worn long and flat on the sides, has reflected the tumultuous nature of his life. Short-haired Bucky looks much better, though. This haircut choice gives the impression that he's finally ready to take on the world and that hasn't been the case since Captain America: The First Avenger, which is the only other time he's worn his hair short.
Over on social media, fan reactions ranged from excitement to surprise and frustration at the loss of his locks. There are other things worth mentioning, like the fact that Bucky's suit is also different, but the hair!
It's pretty hilarious that fans' first reactions were to Winter Soldier's new look and what it could mean for his mental state, rather than on the announcement of Emily VanCamp returning as Sharon Carter, Peggy's beloved niece.
But the reaction to the hair was pretty widespread, with another fan being shocked over the reveal of Bucky's new 'do, expressing that they'll miss the length of Winter Soldier's classic locks, but that the change is probably a "transition" back to his old self.
One fan expressed their thoughts by way of creating fan art. The artist drew Bucky wearing a towel and presumably checking himself out in the mirror while toweling off his short hair. It humorously details the character's own own reaction to new look. Unsurprisingly, he believes he's "still got it."
Along with familiar faces, The Falcon and the Winter Soldier will introduce a new character by the name of John Walker. He'll be played by Wyatt Russell, who joined Anthony Mackie, Sebastian Stan, and Emily VanCamp onstage at D23. While we won't know exactly what is in store for these beloved characters for awhile, Bucky's hair and what it could mean for his story arc will likely be at the forefront of fans' minds until the series premiere.
The Falcon and the Winter Soldier will debut on Disney+ in the fall of 2020. That might seem like a long way away, but until then, take a look at the upcoming fall releases with our full schedule.
Your Daily Blend of Entertainment News