Yellowstone 'Really Explores' Jamie And Beth's Relationship In Season 3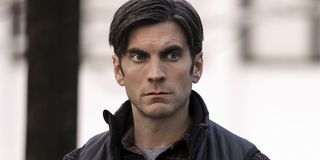 Season finales tend to end in cliffhangers and the Season 2 finale of Yellowstone was no different. While fans usually have to wait a long while before there's any information released about the next season, Paramount Network didn't want to keep fans on their toes for that long. Building upon the hype and tension following the Season 2 finale, the network released a first look at Season 3 and things are looking up for the characters. Yellowstone co-creator Taylor Sheridan teased that Season 3 will be a change in focus and will finally explore Jamie and Beth Dutton's hostility toward one another.
Following the Season 2 finale, titled "The Sins of the Father," Taylor Sheridan spoke out about the season and what we can expect to come next for the characters. One thing has always been made clear: Beth really hates Jamie. However, Sheridan says that Season 3 will "really explore" their relationship, even making a Game of Thrones reference regarding the importance of world building. Now that the world has been fleshed out, it's time to delve into what makes certain characters tick.
It's interesting because Taylor Sheridan makes it clear in his interview with Deadline that he doesn't see Jamie as one of the strongest characters on the show. Played by Wes Bentley, the man's done a lot of bad, so it's understandable that his sister Beth, played by Kelly Reilly, dislikes him. It's definitely a tumultuous relationship and Season 3 might finally give us the reasons behind her hatred.
Taylor Sheridan also makes a point to mention that by next season, some characters on the show will be revealed to not be who we think they are. Is he implying that one of these people is Beth? It's possible, but we sadly won't find out until next year.
Yellowstone Season 3 will premiere in 2020 on the Paramount Network. Until then, fans can -- and should -- speculate about everything to come. Of course, there's plenty more TV in the meantime, so be sure to take a look at our full fall schedule of shows.
Your Daily Blend of Entertainment News