RIP Valerie Harper: Ed Asner Joins Tributes To TV Icon: 'Goodnight Beautiful. I'll See You Soon'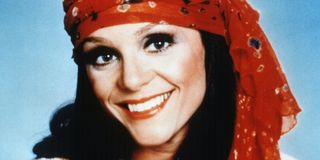 Valerie Harper meant a lot of things to a lot of people and the outpouring of support following her tragic death is a testament to that. The actress, best known for her roles on The Mary Tyler Moore Show and her own spin-off series Rhoda, was a television staple in the 1970s and loved making people laugh. Harper's daughter, Cristina Cacciotti, confirmed on Friday that the beloved actress had died at 80.
Celebrities like Cyndi Lauper, Topher Grace, and Mia Farrow all expressed their heartbreak over the news of Valerie Harper's death. Many other of Harper's esteemed colleagues and friends took to Twitter and Instagram to bid her farewell and to offer their condolences to her family. Former The Mary Tyler Moore co-star and friend Ed Asner, also known for Elf and voicing Carl in Pixar's Up, expressed his love for Harper in a moving post that touched upon the actress's many attributes.
Dancing with the Stars co-host Tom Bergeron also paid his respects to Harper and how she "lit up the ballroom." Though she had just been diagnosed with terminal brain cancer, the actress continued her run on Season 17 of ABC's hit reality show.
Actress Marlee Matlin, known for her roles in The Magicians, Switched at Birth, and Quantico, called Valerie Harper the "epitome of strength and humor."
Charmed actress and activist Alyssa Milano also posted about Harper, citing how "gracious" and kind she was when they were both on Melrose Place together.
Documentarian and director Julie Cohen spoke about how much of an influence Harper was on her and that she wore a scarf similar to the actress all throughout the seventh grade because Harper was "so relatable."
It was confirmed by her family (via CNN) that Valerie Harper died after a long fight with cancer. Harper had battled the disease for many years and unfortunately had to contend with two forms of cancer. She was finally cleared of lung cancer in 2009, only to be diagnosed with brain cancer a few years later in 2013. However, Harper seemed to come from a very loving family and they were by her side throughout everything. Her husband of 40 years, Tony Cacciotti, passed along a message to his wife that their daughter Cristina shared on Twitter.
Valerie Harper will remain in the hearts of so many, in the iconic television characters she portrayed, and in the laughter and joy she brought to those close to her and to audiences across the country.
Your Daily Blend of Entertainment News
Thank you for signing up to CinemaBlend. You will receive a verification email shortly.
There was a problem. Please refresh the page and try again.