Afton Williamson's Departure From The Rookie Gives 'An Opportunity' For New Obstacles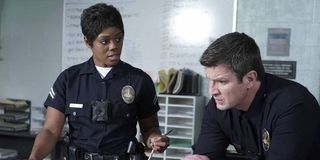 The Rookie saw the surprising and abrupt exit of series star Afton Williamson earlier this summer. Ever since the news broke, fans have been wondering how the writers would address Williamson leaving the show, especially given how important her character is. Series showrunner Alexi Hawley recently confirmed that Williamson's character, Talia Bishop, will be moving to a different job and teased how Bishop's departure will give Nathan Fillion's John Nolan new challenges to contend with.
As the "rookie," Nolan is now left without a partner and experienced officer to work with. Speaking with TVLine, Alexi Hawley, who served as co-showrunner of Castle and now runs things at The Rookie, said that Bishop leaving the LAPD gives Nolan room to train with a new officer and interact with plenty of "interesting" characters.
In June, The Rookie star Afton Williamson announced that she would not return for Season 2 of the ABC series, claiming that she experienced sexual harassment, racism, and bullying from the head of the hair department, Sally Nicole Ciganovich, and by recurring guest star, Demetrius Grosse, during her tenure on the show. Williamson alleges that she reported these incidents directly to showrunner and producer Alexi Hawley, but she says the reports were never sent to Human Resources. The Rookie's production company, eOne, and ABC have responded to the allegations and the studios claims to have launched an investigation. Nathan Fillion and Hawley, however, have not yet responded directly to Afton Williamson's allegations.
At the end of Season 1, Talia Bishop faced punishment after she'd failed to reveal that her foster brother was a convicted felon when she'd filled out her application to the police academy. Since Bishop's story took a turn, The Rookie is leaning into her trouble with the police department. When Season 2 begins, she'll have moved on from the LAPD and to a federal agency.
While John Nolan will be facing new obstacles, Nathan Fillion is "super-duper excited" about the wardrobe change in Season 2, which comes on the heels of Nolan passing his police academy exam. At least he has something to be thrilled about heading into the new season.
Fillion seems to be making a career out of playing a newbie. His character on Castle was also a rookie of sorts at first, helping the police department after a crime was modeled after one of his novels. As a writer with no actual detective experience, Richard Castle had absolutely no clue what he was doing and often needed the help of Detective Kate Beckett.
The Rookie Season 2, which moves Nathan Fillion's character a bit closer to experienced cop territory, will premiere on Sunday, September 29 at 10 p.m. ET on ABC. Want to know when all the rest of your favorite shows are returning? Be sure to check out our complete fall TV schedule.
Your Daily Blend of Entertainment News