Star Trek: Discovery Writer Says He Quit After Being Told He Couldn't Use N-Word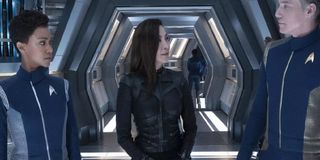 Star Trek: Discovery writer Walter Mosley recently penned an essay regarding his experience in the writer's room and why it led him to resign from his job. A best-selling novelist who had previously written for Snowfall, Mosley had only been with the Star Trek: Discovery writing team for a few weeks when he received a call from the human resources department. Mosley, an African-American writer, states the reason he left the CBS All Access series was because his freedom of speech was being limited.
In an opinion piece published by The New York Times, Walter Mosley expressed his disbelief over being called out for using the n-word in the writers' room. According to Mosley, he didn't call anyone the slur, but he used the word in a story about a Los Angeles police officer who told him he stopped [n-words] in certain neighborhoods. So he was using the phrase in relaying a story as he recalled it.
After the discussion with human resources, Walter Mosley says he responded with, "I am the n-word in the writers' room," and questioned how he could be "chastised" for a word he felt he had the right to use.
The writer made it a point to mention how he was allowed to write the word, but not say it out loud. After meeting with H.R., Mosley decided it was best to "resign and move on." He was convinced that if he didn't resign, he'd later be terminated or "silenced." Not wanting either scenario to play out, he thought it best to leave on his own terms.
Mosley went on to say that he was able to quit his job because he was "fortunate," and that no one can "thrive" in a place where they're being watched as closely as he was.
Of course, Walter Mosley never actually mentions Star Trek: Discovery by name, though the implication is there. Additionally, it was basically confirmed after CBS Studios released a statement in response to his article. They stated that the network was supportive of employees and their concerns and that they wished Mosley luck in his future endeavors.
Star Trek: Discovery Season 3 has no return date yet on CBS All Access, but here's what we know about the new season so far. Be sure to check out our full schedule of new and returning shows.
Your Daily Blend of Entertainment News
Thank you for signing up to CinemaBlend. You will receive a verification email shortly.
There was a problem. Please refresh the page and try again.