NCIS: Los Angeles Season 11 Takes 'A Dark Turn' Tied To Major Character's Absence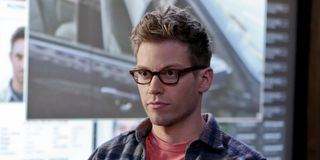 NCIS: Los Angeles' cast will look a little bit different in Season 11 now that one of its major characters will be gone. With actor Barrett Foa temporarily leaving the series to star in the theater production of Angels in America, the long-running CBS show will surely be feeling his absence. Though Foa will only be gone for a few episodes, series showrunner R. Scott Gemmill assures fans that the in-show reason for his departure will connect back to the season and make way for a much more involved storyline upon his return.
Barrett Foa's Eric Beale will be gone for five episodes in early Season 11 and he'll be taking his tech expertise elsewhere. Based on previous reports, it seems as though Eric will be in the premiere before he is assigned a new case that will take him away from his teammates. When he gets back, Eric's offsite work will tie back into the remainder of Season 11.
Speaking with TVLine, R. Scott Gemmill answered questions about Eric's absence and how the writers wrote him out of the season by extending him an "unbelievable job offer." I'd call it an offer he couldn't refuse, but considering that the case will come back to haunt him, Eric might not agree.
Gemmill added that Eric's case will "become a much bigger story where the work he was involved in takes a dark turn." It all sounds very mysterious and ominous. Given that the showrunner knew in advance that Barrett Foa had another project in the works, it provided ample time for the writers to craft a story that would blend seamlessly with the show.
This isn't the first time that series regulars on NCIS: Los Angeles have disappeared onscreen. Season 10 saw the long-term absence of Linda Hunt's Hetty Lange after the actress suffered injuries that needed a longer recovery time.
Additionally, the Season 10 finale brought into question whether Barrett Foa and co-star Renée Felice Smith would even return as regulars for Season 11. Eric and Smith's Nell were contemplating moving from Los Angeles to San Francisco. Those doubts were quickly squashed, however, when it was confirmed that both actors would return to NCIS in Season 11.
The "dark turn" is the part that is most concerning, though. Could Eric's new storyline have anything to do with the missiles that were launched in Season 10? It's not impossible. Whatever the case may be, Eric will need the full support of his teammates to get him out of trouble when it finally decides to come calling.
NCIS: Los Angeles Season 11 premieres Sunday, September 29 at 9:30 p.m. ET on CBS. Want to know what else will be coming to TV this Fall? Check out our complete guide for all new and returning shows.
Your Daily Blend of Entertainment News
Your Daily Blend of Entertainment News
Thank you for signing up to CinemaBlend. You will receive a verification email shortly.
There was a problem. Please refresh the page and try again.