Who Took The Shot In Netflix's The Ranch Part 7 Finale?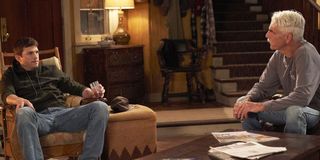 Spoilers for the latest season of the Netflix comedy can be found below. So, if you aren't caught up, we'll be speculating below.
Things may have taken a turn for the worse in the Part 7 season finale of The Ranch. The Netflix sitcom, which stars Sam Elliott and Ashton Kutcher, ended its season with a murder. Part 7, which is essentially Season 4, was riddled with a lot of drama and has evolved from its earlier comedic format. In Part 7, some of the characters wound up in jail and the build-up was such that Elliott's Beau Bennett might have taken things too far.
Mary suffered through a drug addiction this past season, and it's understandable that Beau would have taken issue with the return of Nick, Mary's trashy boyfriend. After all, whenever Nick showed up, it meant trouble for the rest of the crew. The real mystery, however, lies in the fact that Beau is only presumed to have shot and killed Nick. Someone else was gunning for him, too.
The Part 7 finale never actually gave us the answer to the question, leaving The Ranch audiences with a cliffhanger that will hopefully be solved in Part 8. However, it's a clever way to essentially write out Nick, who's caused a lot of turmoil during his run on the show. Remember when Nick threatened to kill Rooster and his whole family because he joked about another man sleeping with Mary back in Part 5, right? Yeah, things have been escalating for awhile.
The shot happened in the very final moments of the episode. After Nick came home, he was surprised to see someone, though the character in question remains offscreen. All the audience heard was the sound of the gun going off. Of course, there were several possibilities as to who the murderer could be, but the obvious suspect was clearly Beau, who was last seen grabbing his gun and storming out the door to find Nick after discovering he was back. Ashton Kutcher's Colt Bennett came in second as a suspect. Still bitter about Rooster's apparent death at the hands of Nick, vengeance was on his mind.
Admittedly, fans didn't actually know if Rooster was dead and it has never been confirmed on the show. However, Danny Masterson was fired from The Ranch in 2017 and his character was written out of the series followingl allegations of sexual assault. On the show, Rooster did leave town because of Nick and in Part 6, his motorcycle was found at the bottom of a cliff, with Rooster nowhere in sight.
Although fans will be speculating about who actually shot Nick, there was no confirmation that he was actually dead and no announcement has been made regarding Josh Burrow's future on the show. The Ranch Part 8, which has been confirmed to be its last season, will more than likely have all the answers. You'll be able to catch those episodes next year.
The Ranch Part 8 will premiere on Netflix (opens in new tab) in 2020, but if you're thirsty for more series to binge, check out our complete guide of all the new and returning Netflix shows.
Your Daily Blend of Entertainment News
Your Daily Blend of Entertainment News
Thank you for signing up to CinemaBlend. You will receive a verification email shortly.
There was a problem. Please refresh the page and try again.