That Time Fox Refused To Pick Up South Park Because Of Mr. Hankey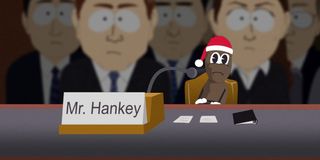 Ever since premiering on Comedy Central back in 1997, South Park has always been good about getting in trouble. The controversy-friendly adult animated sitcom centered around a quartet of misbehaving eight-year-olds, along with their eccentric supporting cast of characters in the wintery Colorado town, is one that gleefully pushes buttons and constantly tries to get a rise out of people. It's more common than not that at least one viewer — whether it's a concerned mom, a disgruntled celebrity being mocked or seemingly anyone else — will get upset by the end of each episode. But did you know that Trey Parker and Matt Stone's well-proven talents for pissing people off ultimately cost their show a prime network spot on Fox?
Indeed, before Comedy Central picked the TV series up and turned it into the a comedy goldmine, South Park was once primed to premiere on Fox, alongside familiar animated favorites like The Simpsons, King of the Hill and other beloved shows, before Fox objected to what Trey Parker and Matt Stone had set in store.
Specifically, Fox wasn't keen about putting the character of Mr. Hankey on their network station, believing the piece of poop would not fly over well with its viewers. It insisted that Parker and Stone remove the character, and the show creators refused, putting their foot down and insisting that they keep Mr. Hankey, the Christmas Poo, on South Park inside their roaster of characters. Talk about the shit hitting the fan.
But let's backtrack a bit. As noted earlier, South Park was the brainchild of Trey Parker and Matt Stone, two like-minded creative minds who met in film class in 1992 at the University of Colorado. They bonded over similar interests, notably their love of Monty Python, and it did not take long before they worked together in a creative fashion. One of their earliest projects was The Spirit of Christmas, which is also known as Jesus Vs. Frosty, centered on a group of friends playing in the snow. This early effort focused on four characters who were very reminiscent of the four protagonists in South Park.
Using paper cutout stop motion animation that would go out to influence the look and design of South Park, The Spirit of Christmas became a humble animated effort, but it drew the attention of a producer with influence in the industry. Brian Graden, a Fox Network executive (and mutual friend, admittedly) saw potential in this crudely-animated short. He hired Trey Parker and Matt Stone to make another short in the same vein, this one known as Jesus vs. Santa. The kooky short film earned Graden's approval, and he sent it out to several of his friends, which helped the short make its way online, where it became one of the first viral videos in an age where such a thing was not as common. Sure enough, it was time for the next step.
As Jesus vs. Santa ballooned in popularity, it was clear to the executives at Fox that they should team up with Matt Stone and Trey Parker in order to develop an animated series in the vein of this well-watched short film. The series, which would eventually become South Park, was picking up steam at Fox for a little while, but then there was a road block. As it turns out, they had very stark objects about the inclusion of Mr. Hankey, a talking/singing sentient poo character, which Fox felt would soil the network. The network didn't feel comfortable producing a show where Mr. Hankey was included.
That dispute resulted in the end of Fox's working relationship with Trey Parker and Matt Stone, as well as their involvement with South Park, but it was obviously not the end for the animated sitcom. Thanks to the continued popularity of the animated short, Parker and Stone entered negotiations with both MTV and Comedy Central to see where the show might find a second home. Ultimately, Parker felt more comfortable with Comedy Central opposed to MTV. He was worried that MTV might potentially turn it into something that was more kid-friendly than what they wanted for this child-centered show.
Thus began Matt Stone and Trey Parker's working relationship with Comedy Central, and the early days of South Park's soon-to-be long stay with the station. Sure enough, it took quite a long time to put the first season together. Specifically, it took three months to make the pilot, "Cartman Gets An Anal Probe," with a small team of animators. The reason the pilot was so long was because, unlike every other episode of the series (which is created using software made to look out cutout animation), the first episode was actually made using cutout animation, which took quite a long time to make. It was through their new method that the show was able to come together a lot quicker, resulting in more topical and current events-related episodes.
It was rough in the early days. South Park was in danger of getting cancelled during its first season, particularly when the first few episodes earned a low approval rating from test audiences who were turned off by the crass animation and irreverent comedy. But since Jesus vs. Frosty was still earning a following online, Comedy Central took notice and decided to give the show six episodes for its first season. It was clearly the right decision to make.
Upon its debut, South Park earned some of the highest ratings on cable television, if not the highest. It became phenomenally popular, particularly with teenage/college age audiences, and while subsequent seasons haven't reached the same heights as their earlier years, it helped turn Comedy Central into one of the fastest-growing cable channels in history. Certainly, Comedy Central owes a tremendous debt to South Park in terms of their ongoing popularity. And their desire to keep the show on the air for seemingly as long as Trey Parker and Matt Stone want to do it is a sign that they have a great amount of respect and admiration for what the showrunners have created with their animated series. They've built each other up nicely.
Naturally, one must wonder what would've happened if Fox continued its working relationship with Trey Parker and Matt Stone, and kept the show under its house. It's hard to know if some of the most famous and controversial moments would have made it through the creative process, as Fox would almost certainly water down the show in order to keep it appropriate for its advertisers and wider range of audiences. There's also a high chance that if it stayed on Fox, South Park would either be cancelled or Parker and Stone would've left, feeling restricted in what they could provide.
Though the long-standing stay of The Simpsons might suggest otherwise, it's hard to imagine South Park getting away with any number of different controversial subject matters if it had an issue with including a sentient singing piece of crap. Naturally, Comedy Central proved itself to be a more fruitful and fitting network for South Park, and it allowed Matt Stone and Trey Parker to make the show they wanted to make, with limited restrictions. That said, it's weird to think that, if Fox ultimately agreed to keep South Park under their wing, the animated show would now be housed under Disney.
To add insult to injury when it comes to Fox, Mr. Hankey didn't merely thrive on Comedy Central's version of South Park; he became one of the first characters to gain enormously popularity through the show's growing infamy, and he helped to pave the way for the hit sitcom's continued success.
What do you think? Do you believe South Park could've made it on Fox if they agreed to include Mr. Hankey? Let us know what you think.
Your Daily Blend of Entertainment News
Will is an entertainment writer based in Pittsburgh, PA. His writing can also be found in The Playlist, Cut Print Film, We Got This Covered, The Young Folks, Slate and other outlets. He also co-hosts the weekly film/TV podcast Cinemaholics with Jon Negroni and he likes to think he's a professional Garfield enthusiast.