Why Chicago Fire's Huge Season Premiere Death Was So Gruesome, According To The Showrunner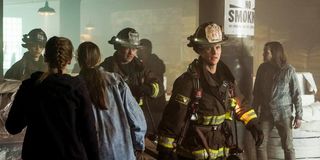 Spoilers ahead for the Season 8 premiere of Chicago Fire**.**
The Season 7 finale of Chicago Fire ended on a cliffhanger and brought a deadly disaster right to the steps of Firehouse 51. The Season 8 premiere, titled "Sacred Ground", followed up on the aftermath of the big explosion and detailed the extensive number of injuries the firefighters sustained. For Yuri Sardarov's Otis, those injuries were too much for his body to handle and he unexpectedly died from the severity of his burns.
It was a somber way to start off Season 8, that's for sure. As one of the main characters, Otis was beloved by many, and his death affectedv (and will continue to affect) his friends and colleagues deeply. Not only was Otis' death shocking, viewers saw first-hand the gruesome burns he suffered as Chicago Fire didn't shy away from putting them on display while he was cooped up in the ambulance. Out of everyone, his death impacted his best friend and roommate, Joe Minoso's Joe Cruz, the most.
CinemaBlend's own Laura Hurley recently spoke with Chicago Fire showrunner Derek Haas about Otis' death, and why Season 8 opened with showing the firefighter's burns.
A moment like that could end up haunting Cruz if he lets it, and he'll likely have to strain to not have that gruesome sight stinging his eyes on a daily basis. Especially in similar situations where other people are in need of treatment.
It seems there's a fatal pattern with Fall TV this year, as both NBC's New Amsterdam and Fox's The Resident also kicked off their season premieres with major character deaths. Much like the aforementioned series will continue feeling the blows of their respective losses, Derek Haas promised that the characters of Chicago Fire will also struggle with mourning Otis for the rest of Season 8.
Something tells me the rest of Chicago Fire's new season won't exactly be free from tragedies, either, so here's hoping Otis' death is the heaviest blow dealt to all the characters, so that viewers don't need to fret about other major characters going down. I mean, more than usual, anyway.
Chicago Fire Season 8 airs Wednesdays at 9 p.m. on NBC and be on the lookout for the series to crossover with Chicago P.D. and Med soon.
Your Daily Blend of Entertainment News