How The Resident's Big Premiere Death Impacts The Rest Of Season 3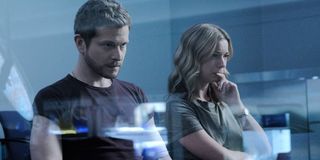 Spoilers ahead for the Season 3 premiere of The Resident**.**
The Resident's Season 3 premiere was rough for fans. Kicking off with a character death, the Fox series revealed that it was indeed Julianna Guill's Jessie who died from complications in surgery, and Emily VanCamp's Nic was definitely devastated by her close sister's death. Though Jessie's presence will be missed on the show, The Resident showrunner Todd Harthan promises that the character won't be forgotten, and that the aftermath of her death will have a tremendous impact on Nic and the rest of the characters in Season 3.
With the Season 2 finale leaving fans with a major cliffhanger, discovering which character flatlined in the Season 3 premiere was both relieving and sad for viewers all at once. With Jessie gone and not coming back, Nic will be going through a bigger emotional wringer than fans did. Speaking with TV Insider, executive producer Todd Harthan explains why they decided to kill off Jessie.
After Jessie's death, which happened within the first ten seconds of the premiere, The Resident picked back up a month later, with Nic still struggling throughout the episode. However, she found enough courage to scatter her sister's ashes before the end of the episode. Their father Kyle, on the other hand, wasn't working through his daughter's death in the same way that Nic was, and felt a sense of responsibility for Jessie's death.
Here's what Todd Harthan had to say about the ways in which Nic and Kyle try to find their coping mechanisms:
Fans should know by now that The Resident is anything but predictable, and killing Jessie off has proved that they're not holding back on giving the actors emotional material. So, what's in store for the rest of Season 3? Todd Harthan has a plan.
The Resident's possibly un-guessable Season 3 airs Tuesdays at 8 p.m. ET on Fox. Fall TV is officially settling in for the season, so be sure to check our complete guide to all your favorite shows and their upcoming premiere dates.
Your Daily Blend of Entertainment News
Thank you for signing up to CinemaBlend. You will receive a verification email shortly.
There was a problem. Please refresh the page and try again.