ABC, Please Don't Let Emergence Be The Latest Genre Show You Cancel Too Soon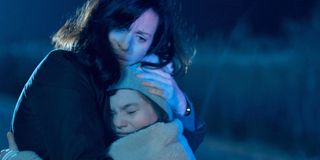 Here we go again! I'm letting myself get into Emergence, knowing it has every chance of being ABC's next one-and-done victim. The network has a habit of launching ambitious sci-fi/fantasy shows that suck fans in and then get cancelled before the mysteries are solved.
We went through this with Forever, The Crossing, FlashForward, The Whispers -- at least Resurrection got two seasons. Even though it wasn't technically a genre show, I'd even add The Nine to the list, since I STILL feel left hanging from that show.
Half of me is grateful that ABC keeps trying, since the execs could easily just give up and say, "We don't have the longterm audience for this kind of show." But they DID once have that exact audience with Lost, and ever since Lost, the network has been trying to recapture that magic and tap into that zeitgeist again. I'm one of ABC's few viewers to consistently turn up for every new genre show, but I can't blame anyone for fearing it might be a waste of their time.
NBC has something in this vein with Manifest, and there were fears that the network would cancel it after one season. Manifest did get a second season, but I'm not sure that will be enough time to answer all of the major questions.
Back to Emergence, though. ABC heavily invested in promos for the mystery drama, which stars Fargo's Allison Tolman in another cop role with a tough-but-soft first responder father. This is her sweet spot, it seems. I got into the Tuesday, September 24 pilot, establishing the mystery of a young girl who is spotted unscathed after a plane crashes on a beach. The girl seems to have no name, but Tolman's Police Chief Jo Evans calls her Piper.
The truth about the strangely powerful Piper and the people trying to track her down -- fake parents, fake NTSB agents -- will apparently dominate the season. I'd be happy to be wrong on that and get some Good Place-level twists, with the big mysteries solved quickly so the story can turn in other directions. The last thing we can afford is another slow burn story that loses viewers along the way.
Emergence already had a Just OK start in the ratings. ABC gave it the Tuesdays at 10 p.m. slot and it picked up 4.12 million viewers and a 0.8 rating against higher-rated New Amsterdam and the lower-rated new season of NCIS: New Orleans.
Emergence's debut was down from The Rookie's launch in the same timeslot last year; Nathan Fillion's show had 5.4 million viewers and a 1.0 rating to start, per TVLine. The Rookie was a question mark for renewal by the end of its first season, but ABC picked up that controversial show and moved it to Sundays.
Emergence is a different kind of show, though. It's not a straight drama, and it's not a comedy you can have on in the background while you're doing dishes or something. You have to pay close attention to a mystery show like this or you'll quickly get lost (Lost puns!) and give up.
So that means viewers have to carve out a time to watch the show consistently. If Tuesdays at 10 p.m. doesn't work for them, they'll have to watch from DVR or stream it. But Nielsen ratings still tend to drive the bus when it comes to renewals. If fans wait over a week or two to binge several episodes together -- which is kind of perfect for mystery shows -- they may give ABC the impression the show isn't being watched.
If fans are tired of being burned by quickly cancelled shows and wait to see if ABC renews Emergence before even giving Season 1 a chance, we'll probably get the self-fulfilling prophecy of a one-and-done show.
So I'm going to try. I'll let myself get burned again by a mystery that leaves me hanging. So be it. At the very least, I'll hang in there for Lost alum Terry O'Quinn, who'll be showing up as a ruthless billionaire tech firm boss with a very secret agenda (of course).
I already love the family dynamic of Emergence, since a mystery/sci-fi/fantasy angle is never enough to sustain a show alone. I love that Emergence isn't going for any kind of sibling rivalry or jealousy with Jo's daughter Mia and new addition Piper. I love that Scrubs actor Donald Faison is part of the team as Jo's ex-husband, who is as confused about this as the rest of us but not an antagonist in any cliched way. The general avoidance of cliches on the family front is welcome, even if the greater mystery isn't offering anything new so far.
It's just one episode, so I'll be patient. Will others? Are you watching Emergence so far? If so, what do you think?
This poll is no longer available.
Gina grew up in Massachusetts and California in her own version of The Parent Trap. She went to three different middle schools, four high schools, and three universities -- including half a year in Perth, Western Australia. She currently lives in a small town in Maine, the kind Stephen King regularly sets terrible things in, so this may be the last you hear from her.
Your Daily Blend of Entertainment News
Thank you for signing up to CinemaBlend. You will receive a verification email shortly.
There was a problem. Please refresh the page and try again.