Young Sheldon Has A Major Problem That The Big Bang Theory Didn't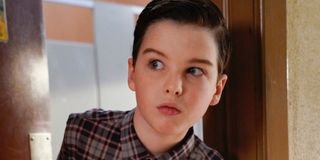 Warning: Spoilers ahead for the most recent episode of Young Sheldon. Be sure to come back once you've caught up!
Sheldon is at a bit of a loss lately. His friend / genius mentor Dr. Sturgis is still spending some much needed time in a mental institution, and it's left Shledon without his guiding hand, as well as without the ability to get some intellectual stimulation that he can't get from the high school classes that are already too pedestrian for him. Unfortunately, Sheldon's efforts to change that really put a spotlight on a big problem that Young Sheldon has that The Big Bang Theory didn't. Let's dig in!
The episode opened with Georgie and Sheldon's teacher reading off roll call for their class, but when she gets to the young smarty-pants, he's no where to be seen, and (of course) Georgie has no idea where he is. We soon have our answer, though, when we follow the suitcase-wielding youngster as he sneaks around the empty halls of the school, heads into the library, pushes aside a rolling cart, unlocks a padlock and sets himself up in a secret office space on the other side of the wall. Tricky.
Sheldon has decided, it seems, to provide his own higher education and has locked himself away from his classmates and teachers so that he can do things like practice whistling and read War and Peace...in peace, and spends the whole day there. But, later in the week, when Coach Wilkins tells George that his youngest son hasn't been in P.E. class since Monday, he goes on the hunt for him, managing to finally locate him after badgering Tam and getting him to spill the location of Sheldon's hideout.
When George confronts Sheldon, of course he tries to get him to leave what turns out to be a broom closet and go back to class, but Sheldon won't do it. He says that he's now learning more in his "citadel of higher learning" than he would in regular classes, and when George calls Mary to try to get her to stop her work day and handle Sheldon, she won't do it, so he leaves Sheldon to his own devices.
When they get home from school, George tells Sheldon to go right to his room, adding that he's not allowed to watch any Professor Proton. While he and Mary argue over her not dropping everything to deal with Sheldon, Meemaw correctly guesses that Sheldon is feeling a bit lost without Dr. Sturgis and offers to call another professor friend, Dr. Linkletter, to see if Sheldon can sit in on his class.
Luckily, Dr. Linkletter says yes (even though Meemaw turned down his dinner invitation), but obviously Sheldon isn't immediately appreciative of his grandmother's efforts. And, this is where I, as a new viewer to Young Sheldon who watched all of The Big Bang Theory, realized that this show has a major problem that the uber-popular parent show simply didn't: this smaller version of Sheldon has to stay basically the same for the entire run of the series.
Sure, Sheldon will learn more science things that most of his friends and family won't understand. And, he'll also grow physically. But, because we met Sheldon on The Big Bang Theory as a stubborn young man, set in his (sometimes rather odd) ways, who's also extremely emotionally stunted and pretty happy that way, that has to be the Sheldon we get for most of Young Sheldon's run.
The Big Bang Theory wasn't a prefect show, but one of the positive aspects of its 12 season run was that the characters (unnecessarily consistent costuming notwithstanding) were allowed to mature over time. Raj learned how to speak to women without drinking booze. Penny gave up her dream of becoming an actor when it clearly wasn't working out. Howard turned into slightly less of a sleezebag. And, Sheldon learned how to apologize more regularly, consider people's feelings, share, fall in love and a whole host of other very nice things.
But, because we saw all that emotional growth on The Big Bang Theory, it pretty much means it won't happen here, and, let's face it, Sheldon is extremely frustrating to watch. I was struck by how much I enjoyed watching everyone else on screen (Yes, even Pastor Jeff, who was trying really hard not to make his relationship with Officer Robin physical, since he's a man of the cloth and they are very much unmarried.), and the thought that they can all learn some big emotional lessons, while Sheldon will likely be stuck in his current state for many seasons to come.
Now, it's possible that Sheldon will have some big breakthrough at some point, but then retreat to his former self after a setback of some kind. This was certainly done with the character on The Big Bang Theory, but I can't imagine it being done successfully on Young Sheldon more than once. Meaning, of course, that we'll be back to square one with our eponymous character being the least interesting to watch week to week.
Look, I don't write for TV, but I know it's not an easy gig. So, I really do hope those behind Young Sheldon can find a way out of this character conundrum that I haven't thought of. Because, Professor Proton help us, if we have to watch Sheldon stay the same for another three seasons, it won't be fun for any of us.
We can all see how Sheldon develops (or doesn't) when Young Sheldon (opens in new tab) continues on CBS, Thursdays at 8 p.m. EST.
Bachelor Nation, Gilmore Girl; will Vulcan nerve pinch pretty much anyone if prompted with cheese...Yes, even Jamie Fraser.
Your Daily Blend of Entertainment News
Thank you for signing up to CinemaBlend. You will receive a verification email shortly.
There was a problem. Please refresh the page and try again.