Why The Big Bang Theory Delivered That Shocking Breakup Before The Series Finale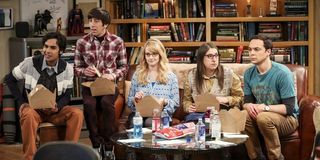 (Image credit: CBS)
Spoilers ahead for the penultimate episode of The Big Bang Theory, called "The Maternal Conclusion."
As hard as it may be to believe after more than a decade on the air, The Big Bang Theory has only one episode left. The finale will be a one-hour event that hopefully ties off some loose ends and sets the stage for the characters to enter the next chapter of their lives, but the Big Bang Theory shockingly tied off one big loose end the week before the finale. In the penultimate episode of the entire series, The Big Bang Theory broke up Raj and Anu.
Throughout Season 12, Raj and Anu seemed like they were bound to tie the knot sooner rather than later, even if their romance did get off to an unconventional start. They weren't the steamiest or sweetest relationship ever to be born on The Big Bang Theory, but they were both happy enough. Considering Raj spent years unable to speak to women without being soused, "happy" is more than once seemed at all possible!
Unfortunately, they reached an impasse. While in London attending a concierge conference, Anu was offered her dream job, with an inconvenient catch: she would have to stay in London and start immediately. Raj had a choice to make: he could either end their relationship to stay in California or give up everything to propose to her and live in London.
Already in a rom com kind of mood after learning that Anu was staying in Notting Hill, Raj decided that he was willing to give up everything for a shot at marriage and kids, even if it wasn't happening the way he dreamed. Well, Raj may have decided to embrace a less romantic way of life in London, but Howard was feeling positively bro-mantic in California. He raced to the airport to stop Raj from flying to London to propose to Anu, and he even let Raj quote Notting Hill at him. Oh, true love.
So, instead of Raj and Anu getting a happily-ever-after in the series finale, they broke up. Showrunner Steve Holland explained why the big breakup happened in the penultimate episode, saying this:
Would Raj have been happy if he'd gone to London, married Anu, and started a family with her? Perhaps. But would he have been as happy as if he'd waited for somebody who really complemented his interests and values? Probably not. The Anu/Raj romance has been fun and funny, but not really something that Raj deserved for his endgame. Or Anu, for that matter!
If Anu wasn't going to make Raj happy with her lack of knowledge of rom coms and cooking shows, then surely Raj wouldn't have made her happy. The actual breakup didn't happen in the episode, but I'm guessing it wasn't packed with hysterics. This is a case of a couple splitting just because they wanted different things, not because either of them did anything wrong.
If The Big Bang Theory was going to break up one of the major characters' relationships in the penultimate episode, ending Anu/Raj was the closest thing to a no fuss, no muss split that could happen. Hey, maybe Raj will meet his soul mate in the series finale! Stranger things have happened. Once upon a time, it was all but inconceivable that Sheldon would ever have sex, let alone get married and have kids, although the kids technically haven't happened yet.
In case you're wondering if you missed signs along the way that Anu and Raj were headed for splitsville, Steve Holland went on in his chat with TVLine to explain that the writers played the romance "by ear." Elaborating, Holland said this:
Some shows plan out arcs and even seasons ahead of time, while others figure out twists as they go along. While planning things out ahead of time can be beneficial in some cases, refusing to change the course of an arc can backfire. Just ask How I Met Your Mother fans who were blindsided by the Ted/Robin twist in that series finale!
Of course, The Big Bang Theory doesn't revolve around Raj's relationship, so even if it had been bungled, it likely wouldn't have resulted in the kind of backlash How I Met Your Mother got after its series finale.
The way it went down doesn't mean a romantic happily-ever-after is out of the question for Raj. Whether he gets one final meet-cute, there's an epilogue revealing what happens to the characters down the road, or he just finds new optimism about his future, Raj's future could look bright by the time the final credits roll.
When The Big 2018-2019 TV Season Finales Are Airing
Find out how Raj's story ends along with all the other major Big Bang Theory character stories when the one-hour series finale airs on Thursday, May 16 at 8 p.m. ET on CBS. It's followed by the Season 2 finale of Young Sheldon, which will feature a Big Bang crossover of sorts. Big Bang Theory fans should be sure to stick around after Young Sheldon for a farewell special led by Johnny Galecki and Kaley Cuoco.
Want to binge watch The Big Bang Theory and more of your favorite shows? Get a week of CBS All Access FREE! Sign up here.
Resident of One Chicago, Bachelor Nation, and Cleveland. Has opinions about crossovers, Star Wars, and superheroes. Will not time travel.
Your Daily Blend of Entertainment News
Thank you for signing up to CinemaBlend. You will receive a verification email shortly.
There was a problem. Please refresh the page and try again.