Watch MSNBC Reporter's Young Son Adorably Interrupt Live Newscast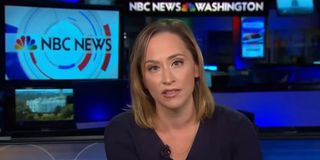 The news has been so intense lately that many people may need a break from it. Usually, that comes in the form of cat videos or some cute fluff found somewhere on the internet. This week, the real world and an adorable kid crossed over into the same video. Over on MSNBC, reporter Courtney Kube was interrupted in the midst of a live broadcast by her four-year-old son and it was pretty cute.
Courtney Kube, an Emmy Award-nominated reporter and television producer whose coverage includes national security and the Pentagon, was live on MSNBC yesterday.
In the middle of covering breaking news, Courtney Kube was briefly interrupted by her son, who wandered onto the live set. He clearly looked like he was vying for some of his mom's attention. While she looked a bit flustered seeing him there, it did pull a smile from Kube. It was certainly an adorable moment in the middle of a very serious situation.
While Courtney Kube's son probably had no clue what was going on, the MSNBC reporter remained professional. However, the interruption is proof that there's no telling what anyone can expect during a live broadcast. "Excuse me, my kids are here," she said, quickly laughing off the moment before returning her attention back to the not-so-adorable news after the interruption.
You can watch the brief MSNBC clip below.
This isn't the first distraction that has occurred while live on-air, either. Two years ago, in the midst of a discussion on a new tax law, viewer attention was drawn elsewhere. In the background, three T-Rex dinosaurs were spotted fighting each other and the reporters didn't notice. Naturally, the video made its way to Twitter. It was random enough to draw a lot of attention and garnered quite a few chuckles.
Cable news networks seem to be incredibly popular and MSNBC, in particular, has really hit its stride. In December of last year, the cable news network beat out Fox News in ratings and viewership for the first time since 2000.
News is a tricky thing and the 24-hour cycle can often be exhausting for viewers, especially with so much going on. Still, it's just as important as ever to tune in and MSNBC turned over a new leaf last year when it hit #1 in the 25-54 demographic. One of the reasons might be due to the fact that MSNBC is also the home of the popular The Rachel Maddow Show, whose host recently got a new gig doing voice over work as Vesper Fairchild in The CW's Batwoman.
In addition to being a MSNBC correspondent, Courtney Kube also served as NBC News' National Security producer and has been with the network for over 15 years.
Your Daily Blend of Entertainment News