Why AHS: 1984 Is My Favorite American Horror Story Season In Years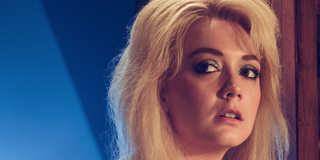 Some spoilers below for American Horror Story: 1984, so don't read too deeply if you're not all caught up.
Given that American Horror Story is a grab-bag full of themes, inspirations, references and nutty performances each year, there's always an early adjustment period for viewers to match their comfort zones to whatever Ryan Murphy and Brad Falchuk have brewing. But now that we're five full episodes into AHS: 1984, I am already willing to hoist Season 9 up as my favorite season in quite a few years.
Set at a summer camp and rocking some major Friday the 13 vibes (both in the physical sense and the yearly setting), American Horror Story: 1984 is missing some frequently used stars such as Sarah Paulson and Evan Peters, but neither their absence nor others has thwarted AHS from hitting so many right notes in Season 9. Below, let's go into more detail about what makes AHS: 1984 such a marked improvement over recent seasons.
American Horror Story Is Delivering Straight-Up Horror Again
As stated above, AHS: 1984 is firmly within the location standards of a traditional horror piece, an abandoned-until-recently summer camp. Season 9 has, for the most part, taken place within the scene of a prior deadly massacre, largely laid out over the course of a single night. While some of the logic utilized there-in is iffy, everything is presented with a pitch-perfect tone; it's as if Ryan Murphy & Co. had actually crafted a Friday the 13 spinoff in between AHS seasons.
What's better than having one killer loose at a summer camp? Having three or more of them, naturally, while also dropping twists that indicate more "innocent" characters are just as murderous. The tension is as tight and harrowing as it ever gets on American Horror Story, thanks to the "real-time" pacing for the first part of the season, and the gore effects are on par with the best they've ever been. This return to genre standards just makes Apocalypse's storytelling, Cult's social satire, and Roanoke's "throw it all at the wall" approach all the more undercooked in comparison.
AHS: 1984's Twists Are Weird In The Best Way
American Horror Story has been turning audiences' expectations on their heads for a long time, and just as it went with its horror tropes in general, AHS: 1984 blissfully also returns to form with its game-changing twists. What other TV show could present itself as an escaped serial killer thriller, only to reveal that the killer, Mr. Jingles, was intentionally released as part of a truly insane psychological experiment, and also that Mr. Jingles wasn't actually the killer responsible for the camp massacre years ago. It was Leslie Grossman's "lone survivor" Margaret.
I love a central hook that keeps peeling back the layers to shift expectations like that. On top of those reveals, AHS: 1984 set just about everyone up to be a secret deviant in some way – from Xavier's quasi-porn to Ray's murder confession to Montana's lust for killer Richard Ramirez. But the real kicker is a callback to Season 1's Murder House, in that some people who die on the campgrounds come back as time-looping ghosts, which is the oddball twist that anchors the back portion of Season 9.
American Horror Story Is Finally Utilizing John Carroll Lynch
As all American Horror Story fans are aware, one of the FX series' most iconic villains was Freak Show's Twisty the Clown a far-too-temporary threat that was brought to life by the always excellent character actor John Carroll Lynch. A memorable part of many other disturbing projects such as Channel Zero: No End House, Zodiac, Carnivale and more, Lynch portrayed serial killer John Wayne Gacy for a pair of AHS: Hotel episodes, and reprised the role of Twisty for Cult.
Thankfully, John Carroll Lynch gets more narrative room in AHS: 1984, starring as Benjamin Richter, otherwise known by his urban legend title Mr. Jingles. Rocking a truly gnarly head of hair, Lynch would have been great if he was plainly portraying a vengeful killer returning to their murderous magnum opus. But American Horror Story flipped that notion by revealing Mr. Jingles was a patsy all along, though one driven to killer rampages all the same. And Lynch is the perfect actor to convincingly portray those layers, which is good since he's apparently a ghost now. Huzzah!
An Emma Roberts Character Has Never Been More Empathetic (Or Tolerable)
I can effortlessly understand the notion that Emma Roberts is perfect at playing bitchy and egotistical characters, and that Ryan Murphy is quite fond of casting her in those kinds of roles. She made her debut as Coven's Madison Montgomery, and perhaps the apex of Roberts' powers in this respect was her short-lived news reporter in American Horror Story: Cult. Between this franchise and Scream Queens's Chanel, Roberts has no shortage of prickly horror performances.
But AHS: 1984 pulls off the rare feat of turning Emma Roberts' Brooke Thompson into more of the stereotypical innocence-imbued Final Girl with a target on her back. Admittedly, this distinction doesn't give Brooke the most agency within the storyline thus far, but I can't help but feel like Roberts will do some hefty ass-kicking once other characters get whittled out of the plot.
Matthew Morrison's American Horror Story Debut
A talented singer and dancer who is no stranger to Broadway's stages, Matthew Morrison won big with Ryan Murphy and TV audiences as Glee's Will Schuester, a role he kept for the show's entire run. (He's still talking about it, too.) After having watched Morrison's scene-stealing performance in AHS: 1984, I am gobsmacked that Season 9 marks the first time that Morrison landed a lead role within this franchise. He is perfection!
As the mustachioed camp activities director Trevor, Matthew Morrison looks like he just stepped off of the set of Boogie Nights, and has the big dick energy to show for it. Though Trevor is just as much of a "walking set of stereotypes" as everyone else, the twinkle in Morrison's eye every second he's on screen proves the actor is a glorious addition to the revolving American Horror Story ensemble, and I can only hope he remains as heavily used in the remaining episodes. (A secondary shout-out to Cody Fern for completely avoiding a sophomore slump in this follow-up to his apocalyptic debut last season.)
While it's certainly true that American Horror Story can (and probably will) find a way to derail my fascination before Season 9 comes to a close, I'm honestly just appreciative that 1984 has lasted this long without partially imploding beneath its own plot twists. That might change if Coven witches start showing up willy nilly, or some other past-season callbacks take over the story, but for now, I'm walking on sunshine, and don't it feel good.
With only a few episodes left in this nine-episode season – its shortest one yet – American Horror Story: 1984 airs Wednesday nights on FX at 10:00 p.m. ET, so be sure to keep watching to let the creative team know that we're digging the campground mayhem.
Nick is a Cajun Country native, and is often asked why he doesn't sound like that's the case. His love for his wife and daughters is almost equaled by his love of gasp-for-breath laughter and gasp-for-breath horror. A lifetime spent in the vicinity of a television screen led to his current dream job, as well as his knowledge of too many TV themes and ad jingles.
Your Daily Blend of Entertainment News
Thank you for signing up to CinemaBlend. You will receive a verification email shortly.
There was a problem. Please refresh the page and try again.