All The American Horror Story Seasons, Ranked
The time has come to look back the very best American Horror Story seasons.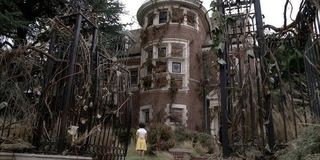 Serialized storytelling has become commonplace in the last decade, likely in part due to the Marvel Cinematic Universe. And on the small screen, there's been a trend in the opposite direction: anthology series. Anthologies allow actors and stories to be rotated in, rather than committing the cast to multi-season contracts. Ryan Murphy really made this concept more mainstream for TV audiences with his massively successful American Horror Story seasons, as well as other original works. And AHS has remained at the top of pop culture since it debuted back in 2011, and there are certain years that stand out as American Horror Story's best seasons.
American Horror Story Season 12 will is debuting on FX sometime in Summer 2023, and will mark a return to form. Not much is known about the upcoming addition, but it'll be based on an original novel. While Ryan Murphy and company love to make the fandom wait for more information regarding the upcoming season, the time has come to look back on what we've already seen from AHS. There have been ten installments thus far, and we've ranked the best American Horror Story seasons. Let's start with the worst, and move up to the very best the horror series has to offer.
10) American Horror Story: Double Feature
Unfortunately the most recent season of American Horror Story failed to live up to some of its more iconic predecessors. As previously mentioned, Season 10 split the narrative into two distinct stories, likely allowing the horror series to film easier in the midst of strict Covid protocols. Unfortunately, one half of the season was far better than the other, leaving something to be disired.
The first half of AHS: Double Feature was titled Part 1: Red Tide and was my personal favorite, with a creepy setting and a centered, intriguing moral question at the heart of its narrative. Meanwhile, Part 2: Death Valley leaned more into camp, while also telling a story across multiple timelines. Ultimately the "present day" story was far less intriguing than the flashbacks, and the finale failed to truly stick the landing.
9. American Horror Story: Cult
American Horror Story: Cult is one of the least successful seasons of the beloved anthology series, despite having a ton of anticipation ahead of its release. Following the 2016 Presidential Election and the division the country was in at the time, Ryan Murphy promised an American Horror Story season that was more political than any other. It was even rumored that Hillary Clinton and Donald Trump might be characters.
By the time American Horror Story: Cult arrived in our homes, it was a far more local story. The season followed a suburban neighborhood, and how the political tension allowed a fanatic young man (played by show icon Evan Peters) to create a cult-- recruiting a ton of diehard followers played by familiar faces like Chaz Bono. It was a season that lacked any truly unique vision, and just about every character joined the titular cult at least once. Although there are some truly horrifying kills, like that chilling coffin sequence.
8) American Horror Story: Freak Show
American Horror Story: Freak Show is another season of the series that had some ambitious ideas, but ultimately disappointed many of the hardcore fans when it concluded. The main cast of AHS actors like Kathy Bates and Frances Conroy all returned for new roles, with many of them being given extensive prothesis to transform them into oddities in the titular show. Freak Show is also unique to other American Horror Story seasons by having a multitude of musical numbers, sung by the likes of Jessica Lange and Sarah Paulson. Unfortunately, it doesn't really stand the test as one of the best American Horror Story seasons.
American Horror Story: Freak Show started off strong, with Twisty the Clown providing an absolutely terrifying antagonist. But Twisty's plot line didn't last very long, and the season ended up having a new villain just about every episode. This includes Neil Patrick Harris, who was criminally underused as a mentally deranged magician. A major highlight is Finn Wittrock's Dandy Mott, although even his performance wasn't strong enough to save American Horror Story: Freak Show or make it one of the best seasons. What's more, his murderous rampage ended up being one of the more upsetting sequences of the entire show.
7) American Horror Story: Apocalypse
American Horror Story: Apocalypse was a long time coming, as Ryan Murphy announced years prior that a crossover season was coming, including the cast of both Coven and Murder House. Rather than being solely focused on those returning characters, American Horror Story: Apocalypse told a new story of the world ending, eventually involving the witches and a grown-up version of Murder House's baby Michael Langdon.
Despite being a crossover for two of the best American Horror Story seasons, Apocalypse was a bit disjointed, and the story was framed in a way that took away from its quality. The first few episodes followed the survivors of the Apocalypse in an underground bunker, but they were all promptly killed off halfway through the season. Then Coven's witches and Murder House's Connie Britton popped back up, and the majority of the back half of the season focused on flashbacks to The Coven's time before the world ended. There was arguably too much narrative ground to cover, and it failed to live up to the hype. American Horror Story: Apocalypse had some bold narrative choices and crossovers, but that didn't necessarily add to the quality of the season.
6) American Horror Story: 1984
The most recent season of American Horror Story came with Season 9, titled 1984. The season marked the first and only time Sarah Paulson has been absent from AHS, and her presence was definitely missed. Still, Ryan Murphy assembled a great cast to bring the season together, including newcomers like Matthew Morrison and classic favorites like Emma Roberts.
For me, American Horror Story: 1984 ranks among the middle of the pack when comparing it to the previous eight seasons. After the convoluted chaos of Apocalypse, 1984's concept was refreshingly simple. It's a campy take on Friday the 13th, with camp councilors being killed off one by one. Leslie Grossman gets to really shine as Margaret Booth, while Billie Lourd goes similarly bananas as Montana. Overall 1984 worked thanks to its time setting, simple plot, and for feeling like a classic horror movie. Still, it's not quite the best season American Horror Story has to offer.
5) American Horror Story: Asylum
AHS: Asylum got a bad rap when it premiere back in 2012. Yet as the years went on, Asylum has continued to be part of the larger narrative of the series, and has aged rather well compared to some of the weaker seasons of American Horror Story. While not quite as dynamic as the first American Horror Story season, Asylum has some really terrifying sequences, mixed in with a touch of comedy.
American Horror Story: Asylum has a dark story at its core, with Sister Mary Eunice being possessed by the devil. But when Jessica Lange's Sister Jude is admitted to Briarcliff, she goes a little crazy and has an elaborate musical number. "The Name Game" is one of the show's most unexpected moments, and is a rare moment of levity in American Horror Story history. At least, until that point.
4) American Horror Story: Hotel
There was a ton of pressure going into American Horror Story: Hotel, as it marked the first time that franchise star Jessica Lange wasn't in the cast. The series seemed to be in limbo, and it was unclear whether or not it would have the same magic without Lange's Emmy-winning performance. Then, none other than Lady Gaga stepped into the series, playing the iconic vampire Countess and earning a Golden Globe in the process.
Hotel focuses on the haunted Hotel Cortez in Los Angeles, and has remained one of the best seasons of American Horror Story. Like Murder House, the dead in the Cortez don't stay that way, and even have enough strength to murder any unfortunate soul who might check in. But this American Horror Story season is also glamorous and sexy, as the vampires (particularly Gaga's Countess) seduce their victims before slitting their throats. Hotel also has Dennis O'Hare's Liz Taylor, a character we truly don't deserve.
3) American Horror Story: Coven
If there's one American Horror Story season that is truly iconic, it's Coven. Season 3 of American Horror Story took a decidedly lighter approach, and introduced a female-centric story about New Orleans witches. It's a season full of sassy one-liners, and is far campier than its preceding installments. Jessica Lange plays perhaps her most iconic character in the entire franchise, bringing Cordelia Goode to life with bitterness and the power of The Supreme.
American Horror Story: Coven's entire cast of characters became iconic, and have been the subject of countless memes. Given all the looks, cast, and iconography of Coven, you can't deny its one of the best American Horror Story seasons. The story and characters' allegiances are ever-shifting, allowing for plenty of narrative possibilities. Stevie Nicks even has a role, appearing in two separate episodes and poking fun at herself as the White Witch. Clearly Coven did something right, as the witches were a major presence in American Horror Story: Apocalypse.
2) American Horror Story: Roanoke
This might be an unpopular opinion, but I had a seriously great time watching American Horror Story's genre-bending sixth season. American Horror Story: Roanoke is told through a cheesy cable ghost show called My Roanoke Nightmare, with two sets of actors sharing the season's characters. One performer played the real-life character who is being interviewed by TV producers, while the other portrayed an actor reenacting the events.
As silly as the concept sounds, I find American Horror Story: Roanoke to be the scariest season of the long-running anthology series. And it's for this reason that I rank as one of the best AHS seasons. The season is largely void of comedic beats, and doesn't have the high fashion approach in additions like American Horror Story: Hotel. Instead, Ryan Murphy brings a full season of gritty and dark scares, full of countless unexpected plot twists.
1) American Horror Story: Murder House
Sometimes you can't get better than the OG. American Horror Story: Murder House was the first entry in the property, premiering on FX in 2011. At that time it was called simply American Horror Story, as the show wasn't guaranteed to get multiple seasons, and the anthology concept hadn't quite been nailed down yet. Ryan Murphy seriously delivered with Murder House, introducing a story and new universe that was dark and thoroughly twisted. And for so many of us, Murder House remains the #1 best American Horror Story season
American Horror Story: Murder House focuses on the Harmon Family, played by Connie Britton, Dylan McDermott, and Taissa Farmiga. The family moves into a haunted house, and is terrorized by the myriad spirits that died within the house. It's a narrative that unfolds episode by episode, and the overall story was more focused and simple than many other American Horror Story seasons. The house itself is a location that's been in multiple other entries -- especially American Horror Story: Apocalypse. There was simply something electric about this first season, which is likely why it started such a phenomenon.
American Horror Story will return with NYC shortly, premiering on October 19th. In the meantime, check out the TV premiere list to plan your next binge-watch.
Your Daily Blend of Entertainment News
Corey was born and raised in New Jersey. Double majored in theater and literature during undergrad. After working in administrative theater for a year in New York, he started as the Weekend Editor at CinemaBlend. He's since been able to work himself up to reviews, phoners, and press junkets-- and is now able to appear on camera with some of his favorite actors... just not as he would have predicted as a kid.