Stephen Amell Fell Asleep During His Last Arrow-verse Scene With Grant Gustin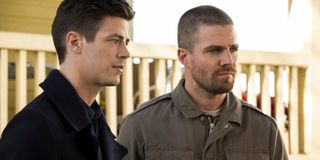 With Arrow only a few episodes away from ending its eight-season run, "Crisis on Infinite Earths" marks what will likely be the last time Stephen Amell's Oliver Queen will share the screen with Grant Gustin's Barry Allen. It's a sad thought, especially considering the characters' journeys and the evolution of their friendship. However, all good things must come to an end and there's nothing that screams comfort like Amell commemorating his final scene with Gustin by falling asleep.
When Grant Gustin made his debut on Arrow in Season 2's episode, "The Scientist," it was inarguably the beginning of a long friendship between Barry Allen and Oliver Queen. The Flash's Season 1 saw the Green Arrow appear in the first official crossover, "Flash vs. Arrow." Since then, the crossovers became an annual tradition that grew to include a variety of characters and shows from across the Arrow-verse.
So it's bittersweet, yet fitting, that Stephen Amell tweeted such a heartfelt message to specifically acknowledge his work with Grant Gustin over the last several years, noting,
As a fun bonus for fans, Amell was filmed being woken up after falling asleep in the midst of their final scene together. The video showcases a groggy Stephen Amell, who asked whether he'd been snoring. Grant Gustin is then seen walking onto the set, laughing at his costar for falling asleep. You can watch the exchange below!
Both Oliver and Barry have been dealing with all things "Crisis" in their respective shows, albeit differently. While Barry is preparing for his death by training members of Team Flash to go on without him, Oliver is visiting Earth-2 and other familiar locations on a mission for The Monitor.
Granted, neither of them know the other is also fated to die, but when they finally make that discovery, The Flash showrunner Eric Wallace expects fans to "get pissed off" about it. It's unlikely that the news will shake up their friendship or anything, but perhaps it's then that Barry realizes Earth-2 was destroyed ahead of its time because of Oliver's meddling in the fate of that world's Tommy Merlyn.
In the weeks ahead of "Crisis," Oliver and Barry will have their hands full. The next stop for Oliver is Nanda Parbat. After questioning exactly who The Monitor is and what he has to do for him, Oliver wants to ensure he's making the right choice. Over on The Flash, Barry has finally told his team that he has to die and Cisco won't take it too well.
The Flash airs Tuesdays at 8 p.m. ET, followed by Arrow at 9 p.m. ET on The CW. "Crisis on Infinite Earths" is set to begin on December 8.
Your Daily Blend of Entertainment News