Is Supergirl's William Dey Being Set Up As A New Villain Or A New Love Interest?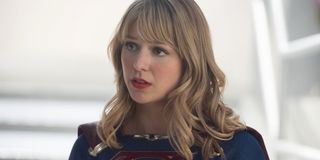 Supergirl's latest Season 5 episode, titled "In Plain Sight," had a lot going on. It sadly saw the exit of Mehcad Brooke's James Olsen, but one of the most important things on Kara Danvers' (Melissa Benoist) plate was her ongoing investigation of her CatCo coworker, William Dey (Staz Nair). Following him to Mexico City and back again, Kara finally discovered William's hideout, and he came clean about what he was up to.
Long story short, William was undercover-investigating new CatCo CEO Andrea Rojas (Julie Gonzalo). While he may have seemingly come clean to Kara, the intrepid reporter should still have her guard up. For all we know, William could secretly be working with the organization Eve Tessmacher (Andrea Brooks) is so afraid of. Of course, it's also possible he is telling the truth, and that working with Kara will turn him into a new potential love interest down the line. Let's break it all down to see where things might be headed.
Why Was William On Kara's Radar?
William Dey came with Andrea Roja's CatCo takeover, and was a lot like a packaged deal of sorts. The two-time Pulitzer Prize-winning journalist had been a jerk to Kara since getting to CatCo, rewriting her stories at the behest of Andrea and shooting down Kara's pitches because they lacked substance.
Kara got suspicious enough of his behavior that she began tailing him. It didn't take long to discover he was linked to two murder cases, both of which he was spotted at the scene of the crime. After finding his hideout, William presumably came clean about his mission, which was to secretly investigate Andrea. But what will happen next?
Is William Being Set Up As A Villain?
One scene's confession does not an innocent person make. After all, there's still a lot we don't know about William, regardless of how very sincere he seemed at the end of "In Plain Sight." There's still a big chance he's working with Leviathan, the criminal organization that will eventually be introduced in Supergirl Season 5.
Right now, we only know that Eve is working with them, but William could be, too. Eve did play the long con, pretending to be friends with Lena for so many years before betraying her to work with Lex, so it's not impossible to believe that William could now be doing the same thing to Kara.
In an interview with TV Insider, Staz Nair confirmed that William was being honest in that moment, but that people are "complex" and that there will be "more to come" about his backstory. He says viewers will see that William is a good man, but that's exactly what they'd want us to think.
While there is a small case for William being a villain, there's an even bigger one for him becoming something easier to get along with for Kara. Whether viewers like it or not, the seeds are already being planted and, let's face it, Kara's love life has been nonexistent for quite some time and she deserves a bit of romance. Which brings us to....
Is William Dey Going To Be Kara's New Love Interest?
My biggest concern when William was introduced was that the show was going to make Kara fall for a guy who was an actual jerk. Again. As it turns out, William is not really as much of an asshole as he was presented as being. At the end of "In Plain Sight," Kara called him out on hating her writing, but William actually believed she wrote with honesty and heart, and it was easy to see how quickly Kara's face softened after learning that.
Add to the fact that they'll be working closely together in the near future and that William's entire marriage is a facade, then it's possible he and Kara could really hit things off romantically. Here's how Staz Nair put it when talking about Kara knowing his truths.
So, knowing his guard will slip, it wouldn't be unreasonable for feelings to develop between Kara and William, just two journalists working together on a case. Kara knowing William's secret, and the two having shared respect for each other, might be the recipe for some romance. If nothing else, it would be nice for Kara to be in a relationship again, even if it was only for a little while.
What do you think about William Dey? Villain or love interest? Both? Neither? Weigh in with your thoughts below!
Supergirl Season 5 airs Sundays at 9 p.m. ET on The CW. For more on the premiere dates of your favorite shows, be sure to check out our complete guide to every new and returning show this fall.
This poll is no longer available.
Your Daily Blend of Entertainment News
Thank you for signing up to CinemaBlend. You will receive a verification email shortly.
There was a problem. Please refresh the page and try again.