Supergirl Season 5 Is An 'Ode To Black Mirror'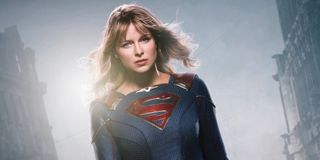 Armed with a new suit, Kara Danvers is more than ready to fight bad guys in Supergirl Season 5. However, unlike previous seasons, Supergirl won't only be battling a season-long big bad. Instead, series co-showrunner Robert Rovner is teasing a different approach to the season.
Besides the traditional season-long villain, Supergirl will be introducing a new kind of challenge for Kara in Season 5: technology. There's no doubt that smartphones, computers, and all the other devices we've grown accustomed to can be scary. We've all seen Black Mirror and so have the writers. Speaking with TVLine, Robert Rovner explained that this season will definitely have a Black Mirror vibe, drawing its inspiration from the Netflix series in more ways than one.
Of course, technology isn't exactly a villain Supergirl can physically fight in a battle, so the sometime CatCo reporter will probably have to get a bit more creative in engaging with her readers, as well as the bad guys using technology to their advantage to hurt others.
Season 4 saw Melissa Benoist's Supergirl fighting multiple villains, including Sam Witwer's Agent Liberty and, later, the diabolical Lex Luthor, played by Jon Cryer. She also battled her other half, Red Daughter, after discovering that Lex (who's quite the tech genius himself and not afraid to use it to reach any dastardly goal) had been harboring and training her as a part of his plan to harness alien energy to destroy Superman's new home of Argo City. Yeah, Lex hates Superman that much.
Our titular hero will also be dealing with the Leviathans, a secret criminal organization who will serve as Season 5's biggest villains. They were introduced at the end of the Season 4 finale and their power and influence are something even Eve Tessmacher seems to fear. And she worked with Lex Luthor, so that says a lot. According to Rovner, the Leviathans have an "agenda for Earth" that will affect the entire season.
Elsewhere, Kara and Lena will experience a more tumultuous friendship than what fans have grown accustomed to. After discovering that everyone had been lying to her about Kara's secret identity as Supergirl, Lena will have a hard time dealing with Kara's betrayal. However, co-showrunner Jessica Queller teases that the hardship they're experiencing will actually work to center their friendship this season.
Later on in Season 5, Supergirl will be joining the Arrow-verse crossover, "Crisis on Infinite Earths," though there's not much information regarding how she will be involved in the big event. However, Tyler Hoechlin and Elizabeth "Bitsie" Tulloch will be returning as Clark Kent/Superman and Lois Lane, respectively. Additionally, Mehcad Brooks will be exiting the series as James Olsen at some point in Season 5, while Jeremy Jordan will return as Winn after "Crisis" is over.
Supergirl Season 5 premieres Sunday, October 6 at 9 p.m. ET on the CW. Need the premiere dates for all your favorite shows? Be sure to check out our detailed Fall TV schedule before grabbing your remote.
Your Daily Blend of Entertainment News