Supergirl's Melissa Benoist And Chris Wood Bested Their TV Relationship By Getting Married In Real Life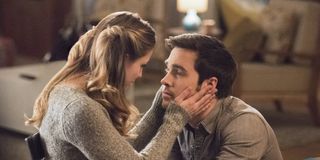 Kara Zor-El and Mon-El's relationship may have ultimately been doomed from the start, but Supergirl stars Melissa Benoist and Chris Wood made their romance work in real life. The couple, who have been together since early 2017, made it official and got married over the weekend in California.
The couple's wedding was extremely private, and not even a leaked picture of the nuptials managed to make its way onto the internet. That's a miracle unto itself and it's clear Melissa Benoist and Chris Wood both value their privacy. According to E!, the wedding took place at an estate in Ojai, California on Sunday, September 1. Among the guests were director Kevin Smith, Vampire Diaries actor Paul Wesley, and Supergirl alum Odette Annable, who played the Season 3 villain Reign.
An anonymous source gave away some of the intimate details of the happy occasion, mentioning that the wedding took place poolside. Candles and strung lights above reportedly added to the ambiance. According to the source, the vows lasted for about 15 minutes, and the food was served family style like a dinner party. It certainly sounds like an intimate occasion that went off well for the happy couple!
The pair met on the set of Supergirl in 2016, after Chris Wood was cast to play Kara's new love interest, Mon-El, in Season 2. The actors began dating not long after and announced their engagement on Instagram in February, with Benoist and Wood making individual posts to announce the good news and to showcase the beautiful engagement ring adorning Benoist's finger. Prior to marrying Wood, Benoist had been married to her Glee co-star, Blake Jenner, though the pair filed for divorce in 2016.
While Kara and Mon-El had a fairly tumultuous relationship, it's admittedly been the most the Girl of Steel has gotten in terms of romance on the show. Supergirl pined after James Olsen, played by Mehcad Brooks, back in Season 1, but any hopes for a potential relationship between the two was squandered very quickly in the Season 2 premiere. Kara was only with Mon-El for a short period of time, though. At the end of Season 2, Mon-El left Earth after lead was released into the air to stop his Daxamite parents from taking over the planet. The lead was toxic to all Daxamites and so he had to leave to save his own life.
Season 3 saw the return of Mon-El, reigniting the hope that he and Kara could once again be together. However, they just weren't meant to be. Mon-El ended up married to someone else after living in the future for seven years. Yeah, it's complicated, but at least Melissa Benoist and Chris Wood were able to get their happy ending.
Supergirl Season 5 premieres Sunday, October 6 at 9/8c on the CW.
Your Daily Blend of Entertainment News