Wait, Is Lauren Cohan's Maggie Returning To The Walking Dead Way Earlier Than Expected?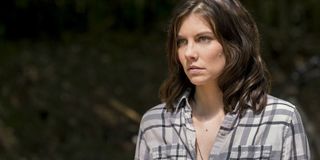 Having landed a lead role on Whiskey Cavalier, Lauren Cohan's departure from The Walking Dead in Season 9 seemed permanent. In October, however, the news out of New York Comic Con was that Cohan would return to The Walking Dead as a series regular in Season 11. But, it looks like she'll be returning as Maggie Rhee way earlier than expected.
Lauren Cohan's Maggie Rhee, whose husband Glenn (Steven Yeun) was brutally killed by the villainous Negan (Jeffrey Dean Morgan) in Season 7, left the show five episodes into The Walking Dead's Season 9. Maggie was last seen leaving the Hilltop six years in the future. However, the early cancellation of ABC's Whiskey Cavalier made it possible for Cohan to return to the AMC show.
Now, according to The Walking Dead showrunner Angela Kang, Lauren Cohan could return as early as midway through Season 10.
That's much earlier than anticipated. After all, Lauren Cohan wasn't supposed to be back full time until Season 11. Speaking with EW, Angela Kang also explains that her return has been in the works for a while now.
Even though Maggie's been gone for more than a season, The Walking Dead, which also saw the departure of Danai Gurira's Michonne, has consistently referenced her character and Angela Kang says that was done on purpose.
Regardless of how Lauren Cohan's return as Maggie will occur, I'm sure Angela Kang and the rest of the writers will have something great in store for her and her storyline.
In other The Walking Dead news, it was announced at San Diego Comic-Con that Andrew Lincoln's Rick Grimes, previously the series' main character, was getting his own theatrical film. The movie will even be introducing new kinds of walkers, so that's something to look forward to.
There's still no word yet on when the Rick Grimes movie will begin production and no release date or title has been given. In the meantime, fans can continue watching The Walking Dead Season 10 (and maybe see Lauren Cohan's Maggie) on Sundays at 9 p.m. on AMC.
Your Daily Blend of Entertainment News