Vanna White To Host Wheel Of Fortune After Pat Sajak Emergency: Here's Who'll Replace Her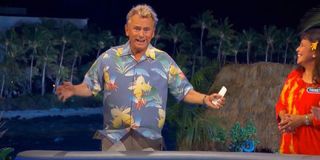 For 38 years, Pat Sajak has been the beloved host of the incredibly successful and long-running ABC game show, Wheel of Fortune. However, the Thursday taping of the show was abruptly cancelled because Sajak had to undergo emergency surgery, and co-star Vanna White is replacing him as host in the interim. Replacing Vanna White as letter turner? Mickey Mouse himself.
On Thursday, Wheel of Fortune's Pat Sajak reportedly underwent emergency surgery to correct a blocked intestine. Per the official account for the show, Sajak is "resting comfortably and looking forward to getting back to work."
According to TMZ, Pat Sajak will be out of commission for two weeks as he recovers from the emergency surgery. Taping for the show continued on Friday with Vanna White, whose duties usually entail flipping the letters as they're called by contestants, taking over hosting duties.
Wheel of Fortune was in the middle of taping Disney Week at their studio in Los Angeles when Sajak went under the knife. Now that Vanna White is fulfilling the role as Wheel of Fortune's host, someone's got to take over her usual duties, and it seems like Mickey Mouse will be taking on a new role as the letter-turning co-star beginning December 9.
How long Mickey Mouse will fill in is unclear, though. It could be for one show or all the shows until Pat Sajak's return. However, since the host will be out for a couple of weeks, it seems the beloved Disney character may not be the only one filling in for Vanna White -- who recently revealed the only argument she's ever had with her co-star -- while she hosts Wheel of Fortune. Goofy, Minnie Mouse, and Donald Duck are all available for the job!
There are no further details being reported about Pat Sajak's health scare. Having been Wheel of Fortune's host for so long, though, no one can imagine the show without him and Vanna White. And while Sajak doesn't seem ready to give up his hosting duties for good just yet, he has previously stated that he would like to leave Wheel of Fortune "while the show is still popular."
Over the last year, Jeopardy! fans have painfully watched host Alex Trebek's battle with pancreatic cancer. Wheel of Fortune fans now find themselves in a similar situation with Pat Sajak, though Trebek has notably never missed a show despite chemotherapy treatment. In this particular situation, though, it's good that Sajak is taking the time to truly heal before going back to work. Emergency surgery is no joke.
Wheel of Fortune airs nightly at 7 p.m. ET on ABC. Be sure to check out our complete guide to every new and returning show premiering through the end of 2019.
Your Daily Blend of Entertainment News
Thank you for signing up to CinemaBlend. You will receive a verification email shortly.
There was a problem. Please refresh the page and try again.