Why The Obi-Wan Kenobi Series Is A Better Fit For TV Than Movies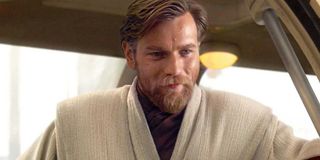 Disney+ is slowly bringing major characters from big movie franchises to the small screen, and soon to get that treatment is Star Wars' Obi-Wan Kenobi, who is getting his own limited TV series that will bring Ewan McGregor back as the Jedi Master. The Mandalorian executive producer Deborah Chow is helming the long-awaited series, and she reasons that Obi-Wan's story is a much better fit for television than movies.
It's no surprise that Lucasfilm could've easily made a standalone film about Obi-Wan Kenobi, a la Solo: A Star Wars Story. However, The Mandalorian director Deborah Chow explained exactly why a series about the Force master makes more sense.
Deborah Chow made a great point in her interview with the New York Times (via io9). A TV show allows so much more time to develop characters and backstory, and this universe is full of expansive possibilities. I imagine there's still so much we still don't know about Obi-Wan Kenobi, even though he's been with the Star Wars franchise since the beginning.
It seems the series will provide ample time to explore points in time before we met Alec Guinness' version of the character in A New Hope. After all, Obi-Wan hasn't appeared in live-action since Revenge of the Sith and Ewan McGregor will surely have a lot of great material to work with, even though he didn't enjoy keeping the series a secret ahead of its announcement.
Additionally, giving the character a TV series instead of a film also provides a way to introduce new characters while also having the narrative space to develop them properly. The galaxy is vast, and there are so many people Obi-Wan may have come into contact with on his journey so far.
While the Obi-Wan Kenobi TV series has yet to procure an official title, the show will "fit seamlessly" into the Star Wars saga. The story will follow the force-wielding character as he deals with the aftermath of the Jedi's slaughter post-Episode III.
The Obi-Wan Kenobi series hasn't begun filming nor does it have a scheduled premiere date quite yet, though. In the meantime, you can prepare for the series by watching episodes of The Mandalorian and be sure to check out our complete list of every new series coming soon to Disney+.
Your Daily Blend of Entertainment News
Thank you for signing up to CinemaBlend. You will receive a verification email shortly.
There was a problem. Please refresh the page and try again.