How Jackie And Becky Might Have Solved Their Latest Restaurant Problem After The Conners' Thanksgiving Episode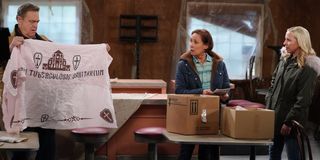 Warning! Spoilers ahead for the most recent episode of The Conners. Be sure to come back once you've caught up!
Well, just when everything was looking up for Jackie and Becky with regards to re-opening the Lunch Box with their stew-themed restaurant, The Conners had to go and snatch it all away! As we saw earlier in an exclusive clip from tonight's episode, the ladies got some bad news when they found out that mold has been a secret inhabitant of the space for far too long, and the repairs were going to wipe out Jackie's life savings. This means that there would then be nothing for them to fall back on after the restaurant opened.
But! It looks like there might be hope for the...Stew Box (?!) yet. Let's dig into what happened, shall we? Alright, first, a small refresher on what happened during that explosive Thanksgiving episode, because the first restaurant issue of Jackie and Becky's was solved then. Remember how Jackie and Becky found out that Beverly owned the Lunch Box? Sure you do. And, I'll suppose you also remember that Darlene holds her power of attorney and did not want to let her sister and aunt use the space? Oh, of course you do!
Well, all the intense fighting that came from Darlene's severe reluctance to let Becky and Jackie realize their restaurant dream spilled over into the Conner family Thanksgiving meal. There was even more arguing, name-calling and a lot more low blows (DJ and Mary couldn't get a word in edgewise), but when Darlene told Jackie that she was "the bane" of Roseanne's existence, Jackie hauled off and slapped her stupid right in front of the whole family. You remember that, too, right? It looked like this:
Woooo! OK, Jackie! You put ya back into that slap, alright! Well, this episode of Conner on Conner violence caused Darlene to say screw it and let them have the the building so they could open their restaurant, even though she still thinks it's an ill-fated idea. Well, more trouble wasn't far. The family (but not Geena...or this guy, for that matter) gathered at the building with Lanford historian Sandy Bitensky (guest star Paul Reubens), who was planning to write an article on their new restaurant to go along with a history of the location.
Jackie and new single mom Becky announced that they were planning to put in a pizza oven, and as Dan demolishes the planned spot for it Sandy takes photos, but Dan quickly tells Becky to get all the kids out of the building because there's a ton of mold behind the wall. After they find out the astronomical costs of repairing the mold damage, Jackie tells Sandy and the family that they can't open the restaurant after all, because it would just take too much money that she doesn't really have.
But, while Jackie is bemoaning her fate of failure with Dan, Becky comes in to tell her that Sandy went ahead and wrote his article anyway. And, even better, he told everyone about their plight and encouraged people to try to support them however they could so that they could actually open. Within seconds, locals begin to come over and offer supplies like (somewhat odd but appreciated) tablecloths for them to use if they open, a working jukebox and more.
The crowd of people that starts to gather convinces Jackie that they just might be able to make an actual go of things, so she changes her mind and says that the new Lunch Box is a-go once again! The big question now is just how long this renewed confidence will hold and whether or not there will be more big obstacles in Becky and Jackie's way as they try to claw their way to restaurant success.
We can all watch their long and winding road toward career fulfillment when The Conners airs on ABC, Tuesdays at 8 p.m. EST.
Yennefer's apprentice, Gilmore Girl; will Vulcan nerve pinch pretty much anyone if prompted with cheese...Yes, even Jamie Fraser.
Your Daily Blend of Entertainment News
Thank you for signing up to CinemaBlend. You will receive a verification email shortly.
There was a problem. Please refresh the page and try again.