Will The Conners Season 2 See Becky Slide Back Into Bad Habits? Here's What Lecy Goranson Says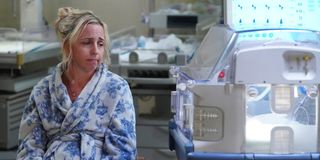 No one tunes in to The Conners to watch a family that's got it easy. But, Becky Conner, in particular, has had it rough. Not only did the eldest Conner child lose her husband, Mark, many years ago, but that loss led Becky to a life as a (basically) functional alcoholic who used sex to make her feel worthy. Plus she recently found out (along with the rest of the family) that her late mother died because of a drug overdose. While Becky had committed to cleaning up her life for her new baby, will the stress of having a child lead her to slide back into her bad habits?
CinemaBlend's Jeff McCobb recently visited The Conners set and spoke with actress Lecy Goranson, who portrays Becky. When asked if Becky's problems in the early days of motherhood would build, or if she'd actually get a chance to breathe easy for a bit, here's how Goranson responded:
Some mild spoilers are ahead for The Conners Season 2 premiere. Ready? Alright, if you watched the premiere, you'll know that Becky had her miracle baby and survived her surprise, "geriatric" pregnancy, but little Beverly Rose Conner was, unfortunately, born two months premature. As soon as Becky gave birth, she knew something was wrong, and her daughter had to be put on a ventilator in the NICU. Becky immediately blamed herself for being too old and drinking too much, assuming that this was why Beverly was born so early and in dire straights.
As Lecy Goranson said, Becky is obviously glad to have a baby at all. She was told that her chances of getting pregnant were actually slim to none not that long ago, but a little (probably ill-advised) nookie with two of her co-workers led to her getting pregnant. When she was able to narrow down the fact that Emilio was her baby's father, and the two began getting close, he was discovered as an illegal immigrant and deported. So, having a baby was going to be difficult for Becky anyway, but the joy is masked a bit by that and her many other issues.
Holding on to one's sobriety, in particular, is no easy feat. This is especially true because Becky is still new at not leaning on the bottle whenever she needs a little relief from life. Considering all her worries over money, raising her daughter in general and Beverly's health in particular, it's probably going to be very tempting to take a drink (or several) to ease her fears and try to lighten the emotional toll a bit. Like Goranson said, Becky has so many issues right now that she's going to have to really find a way to stay committed to remain on track.
As for how Goranson believes Becky will continue to handle the absence of Emilio as she deals with taking care of a preemie, it sounds like it may actually be the least of her problems right now.
Becky and Emilio both worked low-paying jobs at Casa Bonita and they had just started to get to know each other when he got deported, so Lecy Goranson is correct that Becky wasn't really relying on him for anything when he was sent away. But, it was clear in Season 1 that Emilio wanted to be there for his child and Becky, so she is missing someone who would have been at least an emotional support system for her.
Darlene has already promised Becky that she and the rest of the family would be there to step in whenever and however she needed their help with the baby. And, that was certainly the case in the premiere, with Darlene making a point of trying to get a scared and guilty Becky to go see Beverly in intensive care. Jackie signed up last season to help Becky via her life-coaching business, and put together a birthing plan for her that, while potentially too extensive, was certainly well thought out and done with good intentions.
So, Becky's got the whole Conner clan behind her, but there was an opportunity for Becky to have real love and companionship with Emilio that was stripped away when he was deported. Lecy Goranson has some thoughts on what this might mean for Becky's future romantic life...
I like the sound of this for Becky, don't you? The last thing she needs is a string of sexual conquests pulling her focus from taking care of herself and Beverly Rose. And, hopefully, Becky will realize that she needs to get her personal life straight as much as possible before jumping into anything romantic. If I know The Conners like I think I do, though, she'll probably be presented with a great guy when she least expects it.
We can see how Becky continues to handle everything that life throws at her when The Conners continues on ABC, Tuesdays at 8 p.m. EST
Your Daily Blend of Entertainment News
Yennefer's apprentice, Gilmore Girl; will Vulcan nerve pinch pretty much anyone if prompted with cheese...Yes, even Jamie Fraser.
Your Daily Blend of Entertainment News
Thank you for signing up to CinemaBlend. You will receive a verification email shortly.
There was a problem. Please refresh the page and try again.