The Conners' Fighting Just Escalated In Some Big Ways Before The Holidays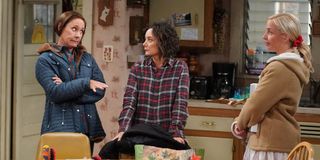 Warning: Spoilers for the most recent episode of The Conners are ahead. Be sure to check back in once you've caught up!
The Conners has always made sure that audiences know how tight the central family is, but the show has also never shied away from what that kind of closeness means when you happen to be having a major disagreement with someone you share DNA and it reaches a boiling point. While Dan, Darlene, Becky, DJ, Jackie and all the rest of the Conner clan have been known to snipe at one another on a very regular basis, they've been having some major issues with each other which just caused a big blowup right before Thanksgiving.
As a little refresher, let's all remember that we got a pretty big reveal in the last new episode. When Becky and Jackie decided to buy the now-up-for-sale former Lunch Box, they eventually found out that Bev (Yes, that Bev!) bought the property ages ago and has been collecting rent checks whenever new tenants move their businesses in. Not only that, but when she started to get on in years, Bev gave her power of attorney to Darlene. This means that Bev has enough money to live on her own, and that Darlene can give the Lunch Box to Jackie and Becky.
Obviously, Jackie kicked Bev out of her apartment when she tried to convince her to tell Darlene that she and Becky should have the Lunch Box. And, when the new wanna-be business owners talked to Darlene, that didn't go well, either. So, now we have Darlene sticking to her guns about not giving the Lunch Box to Jackie and Becky, her sister and aunt mad as hell at her and Bev living with Dan, which he is very unhappy about.
But, this week, Becky has a plan to get the Lunch Box for sure! When Jackie shows up at Las Casita Bonita to talk to her, Becky tells her all they need to do is show Darlene that they have a good idea for the new restaurant and prove that they can make it work, as she shows Jackie the very detailed binder she's made that's filled with a business plan.
Jackie is on board, even thought she was hoping to take Bev to court and try to prove that she wasn't in her right mind when she signed everything over to Darlene. Oh, well. Win some. Lose some.
The ladies figure this is going to work, quickly deciding on comfort food, specifically stew, to base their new restaurant around and begin to throw out a plethora of potential names based on stew puns, like I Get A Kick Outta Stew. Unfortunately, when they see Darlene later and try to convince her, she's no where near as excited about the idea. And, the news gets even worse, as Darlene has gotten another offer for the property from a big franchise that's popular all over the midwest, and she plans to take it. Ouch.
Well, Jackie and Becky are pissed. And, when Darlene points out that even their business plan notes that they won't be able to make rent for the first year, the protests about Darlene not wanting to help out the family come even louder, When she asks if they really think that she enjoys denying them something that they really want, Becky says that she does think exactly that.
Why, you might ask, would Becky say such a thing? Ah, that's easy enough. As they head into the basement where Becky and baby Bev have been staying, she tells Darlene that she believes Darlene is afraid she will succeed and pass her by. "You just lost two boyfriends, you're living at home and you work at that sleezy mugshot mag." Dammit, this is getting rough, right?
You know Darlene wasn't going to let that string of insults (which are actually just real things about her life) go! She asks Becky if she wants "to play that game," and then tells her she's "a 44-year-old waitress living in the basement like an old Christmas tree." OOOOHHHH.
Meanwhile, while all this drama has been unfolding Harris and her new friend Odessa have been hanging around the Conner home. When they're out back, though, they find Dan looking over his broke down motorcycle and he is not pleased. See, Dan had left his bike in the garage in perfect condition, but now it's outside, tipped over, a side view mirror has been broken and...there's a tell tale Doc Marten boot stuck underneath. Uh oh.
Dan knows what's up, and eventually Harris and Odessa cop to the fact that they pulled it out to try to take pictures with it, but it was too heavy for them, so it fell over and broke a mirror. Dan is furious and tells Odessa that she's no longer allowed at the house, and to her credit she simply says, "respect," and immediately takes her leave.
But, Harris is now mad at Dan for kicking Odessa out, saying she thought he was cooler than that and he just says that it's his house and they need to follow his rules, and Harris is going to have to pay him for the broken mirror. There's more bad news coming, though, because when Dan heads in to the basement he find Becky packing herself and the baby up. YES. This whole thing has gotten out of hand, you guys!
Becky tells him that she can't stay there anymore because every time she so much as looks at Darlene now she gets mad, so she's moving in with Jackie. He jokes that she can't do this to him, because it means that Bev will move down there, stay until she dies and "he's too old to move her lifeless body upstairs" when that happens.
Dan then gets serious and tells her that she and the baby have made him feel good about life again after a really hard year. Awwww. I know! Becky is steadfast, though, and keeps packing. When she asks Dan to get another suitcase from the garage, he says no, "I won't help you leave."
After Darlene hears about the situation with Odessa and Harris, she goes to talk to her, and of course Harris is still mad and wants her to talk to Dan, because they pay rent and she thinks that means that they should be able to have any friends over that they want. Darlene tells her that she really doesn't want Odessa around her, either, because she's a stoner, and notes how dangerous the situation could have ended up being, and the fact that sometimes the friends you choose change the course of your life.
Harris back off, saying that she's lonely and misses her friends in Chicago, and tells Darlene that she won't hang out with Odessa anymore. After Darlene leaves, though, we see that she had been videoing with her currently stoned friend, who heard everything, and they make plans to hang out in a few minutes.
Dan hears a knock on the door and opens it to find Jackie there. When he asks what's going on, she says that Darlene has been making her feel like she's not family, hence the knocking. He tells Jackie that they need to work something out, because now Bev is sleeping in his bed because the couch has bugs and adds, "Of course it has bugs. We eat there!" Oh, Dan...
Darlene soon comes in, along with Becky and baby Bev coming up from the basement to leave with Jackie, and this is when Darlene finds out they're moving out because of her. After another rousing round of arguments, they leave and Dan tells Darlene to figure something out, because Thanksgiving is next week and he needs to have all the family together then. Darlene says she'll think of something but won't be bullied into giving them the restaurant when she doesn't think it's a good business move.
So, where exactly does this leave the Conner family? All fucked up, but maybe even more than usual. I kinda missed DJ and Mary in this episode after what they encountered last time, but considering how everything turned out, it looks like it was best for them to have stayed at home all day, right?
We can see what Thanksgiving holds for The Conners when the show airs, Tuesdays on ABC at 8 p.m. EST.
Your Daily Blend of Entertainment News
Yennefer's apprentice, Gilmore Girl; will Vulcan nerve pinch pretty much anyone if prompted with cheese...Yes, even Jamie Fraser.
Your Daily Blend of Entertainment News
Thank you for signing up to CinemaBlend. You will receive a verification email shortly.
There was a problem. Please refresh the page and try again.