New Crisis On Infinite Earths Trailer Reveals How Supergirl Might Join The Arrow-verse's Earth-1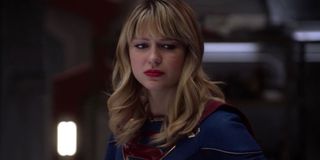 "Worlds will live, worlds will die, and the universe will never be the same." Used as the tagline in the original "Crisis on Infinite Earths" comic book crossover event, the Arrow-verse's Roger Hayden, a.k.a. Psycho Pirate, utter those words at the end of the "Elseworlds" crossover last year, and now his prophecy is finally coming to fruition. Supergirl will be among the superheroes hit hardest by the Arrow-verse's Crisis, as a new trailer shows her reality, i.e. Earth-38, being destroyed. Check it out!
The original "Crisis on Infinite Earths" event saw the destruction of the DC Comics multiverse in order to streamline continuity, with only Earth-1 standing at the end. The Arrow-verse's "Crisis on Infinite Earths" is taking this same destructive approach, and Supergirl's world will be among the casualties, thus allowing for her to potentially become a permanent resident of Earth-1, where Oliver Queen, Barry Allen and the majority of the Arrow-verse's heroes live.
Just like what happened to Earth-2 in the Arrow Season 8 premiere, an anti-matter wave is seen sweeping through the Earth-38 universe in this "Crisis on Infinite Earths" trailer, and Supergirl painfully watches as Argo City, where her Kryptonian mother, Alura Zor-El, has been living, is incinerated. Whatever happens with this "last stand" on Earth-38, it isn't enough, because at the end of the preview, Earth-38 is literally wiped off the map.
Ever since the Arrow-verse confirmed it was adapting "Crisis on Infinite Earths," I'm surely not the only one whose wondered if one of the main consequences of the event will be Supergirl and her supporting cast being moved to Earth-1. After all, with Earth-38 gone, Earth-1 is the most logical place for the Supergirl story continue, although it would be quite a drastic shift, because although these two Earths are quite similar, they also have some notable differences, namely with Earth-38 being populated with a lot more aliens.
However, given that the DC Comics multiverse was slowly reestablished over time, we can't say with absolute certainty just yet that worlds destroyed in the Arrow-verse's "Crisis on Infinite Earths" will permanently stay that way. With Earth-38 holding a sizable corner of the Arrow-verse multiverse, I have a sneaking suspicion it, as well as Earth-2, will somehow be reestablished when this five-episode saga is over.
Nevertheless, this latest look at "Crisis on Infinite Earths" just proves that Supergirl will experience significant loss. Arrow and The Flash viewers have gotten used to knowing that Oliver Queen and Barry Allen are destined to die during the Crisis, but the Girl of Steel won't walk away unscathed. If Earth-38 is gone for good, she and any other survivors from her reality will have to make peace with living on a new world.
The other highlights of this new "Crisis on Infinite Earths" trailer include Tyler Hoechlin's Clark Kent and Iris West meeting Tom Welling's Clark Kent in the Smallville reality, Supergirl and Batwoman discovering Kevin Conroy's older and exoskeleton-wearing Bruce Wayne, Black Lightning shaking hands with Flash aboard the Waverider, the return of Earth-90 Flash and Green Arrow fighting to evacuate either Earth-38 or another world even as The Monitor tells him "it's time."
"Crisis on Infinite Earths" kicks off on The CW next Sunday with Supergirl, followed by Batwoman on Monday and The Flash on Tuesday. The event will then conclude on Tuesday, January 14 with Arrow and Legends of Tomorrow. Find out what shows are dropping during midseason with our handy guide.
Your Daily Blend of Entertainment News
Connoisseur of Marvel, DC, Star Wars, John Wick, MonsterVerse and Doctor Who lore. He's aware he looks like Harry Potter and Clark Kent.