How Smallville's Tom Welling Reacted To His Arrow-verse Crisis On Infinite Earths Fate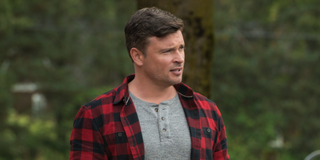 During Part 2 of the Arrow-verse crossover "Crisis on Infinite Earths," Smallville's Tom Welling returned as Clark Kent for a long-awaited cameo, and his big scene was quite unexpected. Welling's Clark is well-known for having never donned the full Superman suit during Smallville's run, so his fate in "Crisis" was up in the air. To be expected, the actor had quite a reaction when he read the script.
For background: after stealing the Book of Destiny, Lex Luthor ventured across the multiverse to kill Superman. He visited Earth-167, where Smallville's Clark Kent lived, and it didn't take long for Lex to learn that this Clark had given up his powers, which was a shocking twist for the beloved small screen hero. According to executive producer and "Crisis" co-conspirator Marc Guggenheim, Tom Welling loved the scene. Here's what Guggenheim had to say about Welling's reaction:
Even though Tom Welling's Clark Kent could no longer save planes from falling out of the sky, he still had enough brute strength to punch Lex in the face. It was a memorable scene, and it's a blessing that Tom Welling couldn't turn it down, considering how many fans wanted to see the actor making a Smallville-centric return. (He'd passed on prior offers to reprise the role.) The "Crisis" moment earned extra fan points because it also included Erica Durance's Lois Lane, who thought Clark's mention of the multiverse was his lame attempt at a joke.
Batwoman showrunner Caroline Dries shared with TVLine that they knew "Crisis on Infinite Earths" would feature several versions of Clark. But it was only when Tom Welling's iteration came to mind that she knew the Kent farm had to be included as well.
The cow could never forget Tom Welling! In a way, the Kent farm has become its own entity within The CW shows, as it's the second time it has appeared in an Arrow-verse crossover. The first introduction was during last year's "Elseworlds."
Thankfully, Smallville's Clark Kent and Lois Lane seem to have gotten their happy ending (which didn't happen for Oliver Queen), and will remain untouched by the anti-matter quickly spreading across the multiverse, at least for now. Black Lightning can't say the same after last night's episode, but we'll be watching to see how that gets handled, too.
The CW's "Crisis on Infinite Earths" continues on Tuesday, December 10, at 8 p.m. with The Flash, where Barry Allen is currently still fated to die. The five-part crossover will probably end on a major mid-point cliffhanger and is set to conclude on Tuesday, January 14, 2020 with Arrow and Legends of Tomorrow.
Your Daily Blend of Entertainment News