NCIS' Ziva Describes 'The Worst Moment' Of Her Life In Fall Finale Scene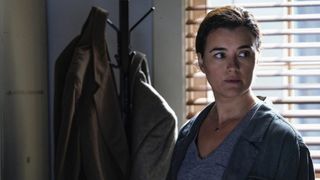 Season 17 of NCIS has been chock-full of surprises, including the return of Cote de Pablo's Ziva. Though she took another leave of absence following her reappearance in the Season 17 two-part premiere, the character will be back in the show's midseason finale, titled "The North Pole." The episode will finally reveal "the one thing" Ziva needs to take care of, but not before she describes the "worst moment" of her life to Gibbs.
While the episode's synopsis hasn't given any further insight to what Ziva needs to deal with before being reunited with Tony and daughter Tali, a sneak peek from "The North Pole" offers a bit more background on what triggers Ziva's anxiety. In the scene, she gets into the car with Gibbs and tells him that it was Odette who brought in Special Agent Bishop.
Knowing Ziva could've done it herself, she explains that Odette did it to "protect" her. Gibbs seems curious and suspicious, asking Ziva outright what it was Odette was trying to protect her from. "Bishop said it was about the crowd," Gibbs says and he's right. Ziva then goes into a bit more detail and explains how her first panic attack happened in a crowd. "In a market," to be exact. Ziva tells Gibbs it was the "worst moment of my life and you know that's saying a lot."
The sneak peek sees Ziva ultimately apologizing to Gibbs about the incident and confesses how she was committed to going it alone. Whether she realized it or not, Ziva was offering Gibbs and the rest of the NCIS team an out. Here's what she tells him:
Gibbs, on the other hand, cuts through the bullshit and gives Ziva an ultimatum. If she doesn't want his help, she can go. Knowing that Ziva's return in the episode involves a "life or death" situation, it's a safe bet that she doesn't leave because she does need Gibbs and the team's help whether she admits it or not.
The sneak peek from NCIS' midseason finale, courtesy of TVLine, offers up just enough information about Ziva's situation without giving away too much. Can't reveal the whole mystery in one clip! "The North Pole" isn't a one-and-done episode for Ziva, either. Whatever the reason for why she's back will carry over into the CBS series' winter premiere on January 7, 2020, so expect a lot more intensity and for the episode to likely end on a cliffhanger.
Tune in to NCIS' midseason finale to find out what else happens in the scene between Ziva and Gibbs. "The North Pole" is slated to air on Tuesday, December 17 at 8 p.m. ET on CBS. For more on what to watch, be sure to check out our 2020 midseason schedule.
Your Daily Blend of Entertainment News
Your Daily Blend of Entertainment News
Thank you for signing up to CinemaBlend. You will receive a verification email shortly.
There was a problem. Please refresh the page and try again.