NCIS' Ziva Needs 'One Thing' To Return To Tony And Tali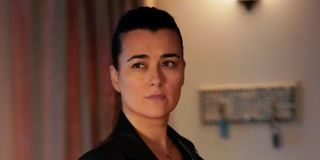 NCIS is swinging for the fences with its upcoming fall finale thanks to the return of Cote de Pablo as Ziva. After returning in a big way for the Season 17 opening two-parter, Ziva dipped out of the action to pursue other ends without NCIS oversight. While her first couple episodes proved that she's not the same Ziva fans last saw in Season 11, it was clear that she still deeply loved those who were important to her. Namely, her family: Tony and daughter Tali.
Now, after a long absence, Ziva is slated to return to NCIS for the fall finale, in which it seems the end of her self-exile away from Tony and Tali could be in sight. Check out the official episode description of the fall finale, called "The North Pole," courtesy of CBS:
Unfortunately, the episode description for "The North Pole" doesn't explicitly give away what this "one thing" Ziva needs to take care of is, but one NCIS star already revealed that the episode will feature "a life or death" situation requiring the whole NCIS team and Ziva to put the case "front and center" because "someone will die" otherwise. That tease, coupled with the high stakes suggested by the episode description, indicates that the episode could be pretty intense.
That said, photos from "The North Pole" suggest that Ziva will be playing at least more well with others than in her first two episodes of Season 17, and she doesn't look nearly as on edge as she did then either. Take a look at Ziva and the NCIS team seemingly working together:
Unless Ziva here is just biding her time before she can escape the other agents and pursue her goal via her own methods, it looks like everybody will be working together. Torres looks a little stressed, and Gibbs looks a little on edge himself, but Ziva looks fairly cool and collected.
In another image, Gibbs looks a little suspicious of Ziva, and I can't help but wonder if he's thrown by how her expressions contrast how she looked during the frantic Season 17 two-parter:
Ziva almost looks playful in this image with Gibbs, which is a far cry from their earlier interactions in Season 17. Honestly, I don't blame Gibbs if he's suspicious about Ziva's demeanor. Calm, collected Ziva might be too good to be true, right? Maybe she'll change attitudes if and when bullets start flying.
In this next picture, Ziva looks more curious and hopeful than desperate and angry. Is she genuinely feeling mild and businesslike in the fall finale, or is this an act so Ziva can control the situation? Here's another piece of what we have to go on:
Given that Ziva is slated to appear in the Season 17 fall finale in December and the winter premiere in January, it's probably safe to say that the episode won't end in a cool, calm, collected way. I'd be surprised if there's not a deadly cliffhanger heading into the brief winter hiatus, especially since Cote de Pablo only signed on for four episodes of Season 17. Would NCIS really send Ziva off without a bang of a cliffhanger first, even if she does ultimately get a happy ending with Tony and Tali?
Considering how the big NCIS: New Orleans death this season changed the way I watch television, I'm sure I'll spend hiatus worrying about Ziva as much as hoping that she gets her happily-ever-after with her family. Surely Michael Weatherly, who stars on CBS' Bull despite allegations against him, could drop by for an NCIS cameo to give Tiva fans an exciting way to start the new year, right?
Why Cote De Pablo Thinks NCIS Is Still So Popular With Fans
Find out when NCIS (opens in new tab)' "The North Pole" airs with Cote de Pablo on Tuesday, December 17 at 8 p.m. ET on CBS, and then what could very well be her final episode ever with the winter premiere on January 7, 2020 in the winter premiere schedule.
Resident of One Chicago, Bachelor Nation, and Cleveland. Has opinions about crossovers, Star Wars, and superheroes. Will not time travel.
Your Daily Blend of Entertainment News
Thank you for signing up to CinemaBlend. You will receive a verification email shortly.
There was a problem. Please refresh the page and try again.