Mark Hamill Revealed His Mystery TV Project, And It Wasn't Star Wars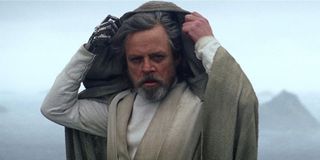 Back in December of 2019, Mark Hamill tweeted about completing a project he "really really loved," but couldn't discuss any further details due to a non-disclosure agreement. Well, the cat's out of the bag now and the actor has revealed his mystery TV project, and no, it wasn't another Star Wars movie.
Mark Hamill, known best for playing Luke Skywalker and voicing the Joker in Batman: The Animated Series, will be guest starring in Season 2 of FX's What We Do in the Shadows. Hamill took to Twitter to confirm that he will be involved in Season 2, but remained vague about the details. Here's what he wrote:
That's a great question. What will Mark Hamill be doing in the shadows? It's possible he could be playing a new vampire character. It would certainly be fun if Hamill turned out to be an old friend of one of the lead characters. However, What We Do in the Shadows showrunner Jemaine Clement (via Variety) confirmed that Season 2 would also be introducing ghosts and witches into the story, so there's more than one kind of supernatural character Hamill could play.
The series, which is based on the 2014 movie of the same name, takes place on Staten Island and follows a mockumentary style of storytelling that involves three vampire roommates who have been "living" together for centuries. The original film was set in New Zealand, but series creators and What We Do in the Shadows co-directors Taika Waititi and Jemaine Clement decided to change things up.
While Mark Hamill sounds incredibly excited to be a part of the show, there's been no announcement about which episode of What We Do in the Shadows he's set to appear in. However, I'm crossing my fingers that Hamill will get the chance to interact with The Office actor Mark Proksch, who plays the energy-feasting vampire Colin Robinson. Unfortunately, Hamill won't get to star opposite Beanie Feldstein since it's been confirmed that she won't be returning for Season 2 of What We Do in the Shadows.
Season 2 of What We Do in the Shadows is set to debut on FX at some point this year, although a concrete premiere date has yet to be announced. Stay tuned to CinemaBlend for more information about Season 2 and Mark Hamill's role. In the meantime, be sure to check out our 2020 midseason schedule to find out when every new and returning show will premiere.
Your Daily Blend of Entertainment News
Thank you for signing up to CinemaBlend. You will receive a verification email shortly.
There was a problem. Please refresh the page and try again.