Nic Cage Really Was Almost In The Arrow-verse's Crisis On Infinite Earths Crossover (And Still Might Be?)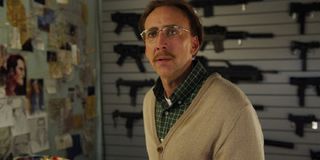 It's no secret that the Arrow-verse's five-part crossover, "Crisis on Infinite Earth," is uniting a plethora of characters from across the DC universe, including fellow CW superhero Black Lightning and Birds of Prey's Ashley Scott. Beyond all that, though, a really big surprise came when executive producer Marc Guggenheim recently revealed that the show legitimately reached out to Superman enthusiast Nic Cage about appearing in "Crisis on Infinite Earths."
Back in October, Marc Guggenheim took to Twitter with a vague reference to reaching out to Nicolas Cage about appearing in "Crisis on Infinite Earths," and many fans thought it might have been a joke. However, it turns out that he wasn't kidding at all. Here's what Guggenheim said:
For some background, Nicolas Cage was tapped to play Superman in the 1998 Tim Burton project Superman Lives, a movie never saw the light of day. Though the film was dropped, it became the stuff of legend due to its pre-production process, and there was even a documentary about it called The Death of 'Superman Lives': What Happened? So it seemed fair to try and include Cage in the crossover, even though there were plenty of Supermen flying around in "Crisis" already.
Notice how Marc Guggenheim never actually says that Nicolas Cage turned down the offer. Maybe I'm reading into this too hard, but it sounds like there's still hope that Cage, who also played a Batman-like hero in Kick-Ass, might still appear in "Crisis" in some capacity.
After all, only the first three episodes will air in December, with the final two episodes set to conclude the saga in January. Speaking with IndieWire, Marc Guggenheim confirmed that there are "at least six characters who appear in the first three hours that we haven't announced" and he's working on adding more for the final two episodes.
The former Arrow showrunner also revealed that Nicolas Cage wasn't the only big name actor asked to cameo in "Crisis on Infinite Earths," which also includes Kevin Conroy's live-action debut portraying Batman.
The fact that Nicolas Cage is a big movie star, and that The CW probably couldn't afford him, likely means that Cage won't appear at all, so take all of this with a grain of salt. However, there remains a small glimmer of hope in Guggenheim's admission, though fans will just have to wait until the crossover is done with to see what happens.
You can check out Guggenheim's original Twitter response below that started this all up.
Arrow-verse's "Crisis on Infinite Earths" will kick off on Sunday, December 8 at 8 p.m. with Supergirl, followed by Batwoman and The Flash on December 9 and 10, respectively. The five-part crossover will conclude with Arrow and Legends of Tomorrow on January 14, 2020. In the meantime, be sure to check out our guide to TV shows premiering in the winter and spring of 2020.
Your Daily Blend of Entertainment News