Fans Went Wild Over Tom Ellis' Lucifer Cameo In Crisis On Infinite Earths Crossover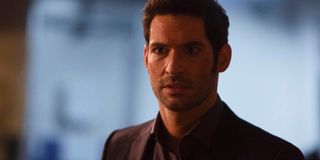 They say the devil is in the details, and speaking of the devil, the third hour of the Arrow-verse crossover "Crisis on Infinite Earths" featured an otherworldly surprise when Tom Ellis' Lucifer Morningstar showed up. The Fox-turned-Netflix fave Lucifer is now officially part of the Arrow-verse, and fans went wild on Twitter following his appearance on The Flash.
A previous rumor suggested that the Lucifer star would make an appearance in "Crisis on Infinite Earths," though Tom Ellis enjoyed making up stories to throw fans off the scent. It turns out that Ellis wasn't visiting Vancouver to see a friend, after all. (The demon still has a trick or two up his sleeve!) Lucifer, however, did make some new friends when John Constantine, Diggle, Sara, and Mia ventured to Earth-666 to seek out his help in saving Oliver Queen from Purgatory.
Seeing Lucifer onscreen in "Crisis on Infinite Earths" threw fans for a loop, but they were incredibly excited to see DC Comics' favorite king of hell. One fan in particular was thrilled as F-bomb that Lucifer's cameo meant he was officially part of the Arrow-verse now, despite the fact that everyone but the seven Paragons ended up disappearing in the anti-matter wave at the end.
Some of the people going berserk online hadn't actually stayed up-to-date with any of the Arrow-verse shows, but still made a point of celebrating Lucifer Morningstar getting to cause mayhem in the multiverse during the "Crisis" crossover.
Fans went so wild over Tom Ellis' appearance that Lucifer Morningstar has been trending on Twitter since the episode aired. That whopper of a surprise has us confident that the Arrow-verse showrunners still have a few shocking twists left in their repertoire that don't rely on Ellis' fibbing skills to fool fans.
Lucifer even confirmed that he knows about Earth-1, which means it's possible that Constantine could crossover to Lucifer, right? Here's hoping that craziness would actually happen, though the crime drama already had a mini Arrow-verse crossover of its own when Tom Welling guest-starred in Season 3. One fan didn't forget that little tidbit, even though Welling wasn't playing Superman.
Tom Ellis' cameo wasn't just a super-brief glimpse at the character, either. Unlike Ashley Scott's Birds of Prey nod at the beginning of The Flash, Lucifer's connection to the Arrow-verse was fully confirmed through his past working relationship with Constantine. In the scene, Lucifer says that he owes Constantine for what he did for Maze, though he never states exactly what it was that was done.
This cameo might connect right back to Season 5 of Lucifer, which is set to explore more of Maze's backstory. It's a clever way to tie two existing shows together in one universe, and not just because both characters' network television shows were initially cancelled. Just as Black Lightning was affected by "Crisis on Infinite Earths," which saw Jefferson Pierce joining the Arrow-verse, Lucifer's final season might be impacted as well.
With one hell of a cliffhanger, which saw Lex Luthor kill Brandon Routh's Superman to become the Paragon of Truth, "Crisis on Infinite Earths" has a lot more in store when it returns. The crossover concludes with Arrow and Legends of Tomorrow on Tuesday, January 14, 2020 on The CW. Lucifer Season 5 will premiere on Netflix at some point in 2020.
Your Daily Blend of Entertainment News