Phew! The Obi-Wan Kenobi Disney+ Cancellation Rumor Has Been Debunked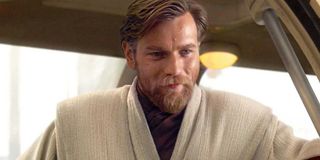 News can spread like wildfire, but that doesn't always mean that it's true. Earlier this week, a fake account tweeted that the upcoming Obi-Wan Kenobi series for Disney+ was no longer happening. Fans online began freaking out not long after, believing the rumor to be true after it was picked up by a couple of sites. However, everyone can breathe a sigh of relief now because the Obi-Wan Kenobi cancellation rumor has now been debunked.
Here's what seems to have happened. A fake Twitter account called "DicsussingFilm," a parody account of the real site Discussing Film, tweeted that Ewan McGregor, who recently revealed some details about the show, had exited the Obi-Wan Kenobi series. The account cited "creative differences" as the reason for his departure. The person tweeting even tagged the official Disney+ account. After that, it didn't take long for a handful of fan sites to begin covering the fake news, fueling the fire created by the original tweet.
The inaccurate tweet ultimately caused quite a stir and panic amongst Star Wars fans who were looking forward to the Disney+ series, with many voicing their frustration online in light of the supposed news. However, the news of cancellation is simply untrue. TheWrap has confirmed with sources that the story was "completely inaccurate" and that plans for the Disney+ series haven't changed.
Ewan McGregor, who really didn't love keeping news of the show a secret, is still set to star as Obi-Wan Kenobi in the Star Wars show, which was announced during Disney's D23 Expo last summer. Phew! That's great news and Star Wars fans will be happy to hear that the Disney+ series is still moving forward. Fans have been clamoring for an Obi-Wan series for a long time, so the idea that the series would be cancelled so soon after its announcement would have truly been devastating.
As of right now, only Ewan McGregor has been announced to star in the series, which is set at some point between Star Wars: Revenge of the Sith and A New Hope. Knowing how much story there is to tell from that time period, The Mandalorian director Deborah Chow, who will also helm the Obi-Wan Kenobi series, believes the TV format makes more sense than a film because the story is "hard to do in two hours."
Though it's officially a go, the Obi-Wan Kenobi series doesn't have a scheduled premiere date yet and details about the show are still scarce. Stay tuned to CinemaBlend for more information. While you wait for more news on the series, The Mandalorian, the first Disney+ show set in the Star Wars universe, is currently available to stream on Disney+. For more on what to watch, be sure to check out our 2020 midseason schedule to find out when every new and returning TV show will premiere.
Your Daily Blend of Entertainment News