Schitt's Creek: The 11 Funniest Characters And The Cast Members Who Play Them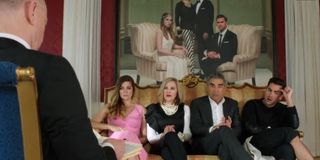 Schitt's Creek is one of the funniest criminally underrated comedies of the 2010s. Father and son duo Dan Levy and Eugene Levy created an innovative, hilarious, and intelligent show with an amazing cast. Schitt's Creek cast and the characters they embody give the series its biggest strengths, and that's one of the many reasons why we're so sad to see it end this year.
Schitt's Creek follows the Rose family, a group of wealthy socialites who lose everything, except for a small town called Schitt's Creek. As the Rose's last asset, they must make life at Schitt's Creek work. The show presents an extremely amusing fish out of water story about crazy rich people trying to cohabitate and relate to insane not-so-rich people. The comedy aired on Pop TV from 2015 to 2020. Schitt's Creek 6th and final season began airing in January with plans to air 14 episodes.
The Rose family, and those they interact with, are some of the most fascinating and humorous characters currently on TV. Each character brings their unique brand of hilarity. The chemistry between the entire cast is also what makes each character pop. It was very hard to pick who is the funniest Schitt's Creek character because the show gives each character a distinct personality. So picking the funniest felt like comparing cherries to pears, but we're happy with our decision and ranking of the funniest main and recurring characters on Schitt's Creek.
11. Patrick Brewer (Noah Reid)
Patrick joined Schitt's Creek in Season 4 as David (Dan Levy)'s business partner and possible love interest. Currently, Patrick and David have a thriving business and love story as they became engaged at the end of Schitt's Creek Season 5. Patrick is still relatively new to the series so he hasn't had that many moments to shine in a comedic way. However, what Patrick lacks in straight comedy, he makes up for in sincerity. His genuine earnestness makes it easy to adore watching David and his relationship. As someone who didn't grow up in Schitt's Creek, it makes complete sense for Patrick to be a lot less wacky than the other characters. Patrick's strongest episode is Season 5, Episode 11, "Meet the Parents." In this episode, Patrick reveals to his parents his sexuality. It is a really funny episode that's also very moving and sweet.
10. Twyla Sands (Sarah Levy)
Twyla is the Schitt's Creek café waitress, and her major personality attribute is her niceness. She's a nice girl who lacks the ruthlessness that the other characters possess. The Rose family often manipulates her because of her general nice demeanor. They also often use Twyla as a personal therapist, even when she is trying to work. Most of the comedy of Twyla comes from her interaction with the Rose family, especially Alexis (Annie Murphy), who regularly tries to get Twyla to help her by scheming. One of Twyla's funniest episodes is when Alexis invents a game to try to get back the necklace that she gave Twyla-originally it was a gift to Alexis from Ted (Dustin Milligan). This happened in Season 5, episode 2, "Love Letters." The hilarity in this situation comes from the fact that Twyla ends up benefitting from this game way more than Alexis benefits.
9. Ted Mullens (Dustin Milligan)
Ted is a wholesome guy, which makes him an oddly perfect choice for Alexis. Ted starts off Schitt's Creek as the veterinarian that Alexis works for as his receptionist. He falls hard for her, but she ends up breaking his heart and ending their relationship. The two remain friends until Season 4 when Alexis realizes how much she truly loves Ted. One of Ted's funniest episodes is in Schitt's Creek Season 5, Episode 5, "Housewarming." A game of spin the bottle leads to Ted kissing David. Most of the comedy comes from Alexis and Patrick's jealousy about the entire situation. However, part of the episode revolves around Ted being drunk, and drunk Ted is actually really funny. Hopefully, we see a little more of this side of Ted in Schitt's Creek's final season.
8. Jocelyn Schitt (Jennifer Robertson)
Jocelyn is the devoted, overworked, aggressively nice wife of Roland Schitt (Chris Elliott). Like Twyla, half of Jocelyn's comedy as a character comes from her trying to be really nice, and how the Roses use that to their advantage. However, unlike Twyla, as the series progresses, Jocelyn's cheery exterior starts to peel, and it seems like she's one incident away from going completely insane. Most of Jocelyn's best funny moments come when she's trying to hide her frustration with the Roses or Roland. One of Jocelyn's funniest episodes happens in Schitt's Creek Season 5, Episode 6, "Rock On!" Jocelyn plans for a big night out to see Poison, but it doesn't end up as planned. It is enjoyable to see Jocelyn embrace her wilder side and let her hair down.
7. Roland Schitt (Chris Elliott)
Roland Schitt is one of those characters that gets most of his or her comedy from being unlikable, and Chris Elliot does a fabulous job playing these types of characters. It's easy to sympathize with Jocelyn for having to deal with Roland all the time. He's a constant annoyance to each member of the Rose family, but especially Johnny (Eugene Levy). Roland's strongest moments are when he is just being a nuisance while "working" at the Rosebud Motel, creating more problems for Johnny and Stevie (Emily Hampshire) than he solves. Roland has had quite a few strong moments in Schitt's Creek, but one of his best episodes is Season 2, Episode 4, "Estate Sale." David and Roland aren't often paired together, so it is hysterical to see these two very different characters trying to agree on something to buy Jocelyn.
6. Ronnie Lee (Karen Robinson)
Ronnie is a Schitt's Creek councilor who often displays great annoyance with the Schitt and Rose families. Ronnie is a recurring, minor character, but she's been a part of Schitt's Creek since season 1, so, in my opinion, she's just as vital to the cast as any Schitt's Creek character. Ronnie Lee has hilarious one-liners, calls people out on their annoying behavior, and offers more wisdom than most Schitt's Creek characters. One of Schitt's Creek's funniest running gags is her general dislike and distaste for Patrick. It gives them a funny dynamic, especially because she really doesn't like him and he's one of the least offensive characters on Schitt's Creek.
5. Stevie Budd (Emily Hampshire)
In earlier seasons, Stevie became David's best friend and love interest. Their bond developed from that into something deeper: family. Basically, now Stevie is the third child of the Rose family. Stevie's blunt personality and sarcastic nature makes her one of the funniest characters on Schitt's Creek. The first couple of seasons, she was more of a sidekick to David, but the latter seasons has let Stevie shine on her own. In season 3, Stevie and David discover that they're dating the same guy. In Season 3, Episode 2, "The Throuple," they try to navigate their way around this development and exist as a throuple. It does not go well for them, but it gives us more hilarious David and Stevie moments.
4. Johnny Rose (Eugene Levy)
As the patriarch of the Rose family, Johnny often comes off as the normal one in comparison to his wife and kids. It's because Johnny is so normal and likable that you're able to sympathize with his situation and root for him. Much of Johnny's comedy comes from Eugene Levy's natural comedic ability. He's the ultimate embarrassing dad character. A couple of Johnny's best episodes are season 4 episode 9, "The Olive Branch" and Season 4, Episode 13, "Merry Christmas, Johnny Rose." "The Olive Branch" involves Johnny getting Stevie a present and "Merry Christmas, Johnny Rose" involves him trying to recapture some of their former Christmas extravaganza by planning a holiday party. Both of these episodes kind of sum up Johnny as a character: he has good intentions, but he's a bit out-of-touch with reality.
3. David Rose (Dan Levy)
Like Johnny, David is a little more reasonable and grounded than his mother and sister, but he's just as quirky. As an actor, Dan Levy is able to develop on-screen chemistry with every character, which gives them their own set of distinct and unique dynamics. Some of David's best moments are when interacting with Alexis (Annie Murphy). Annie Murphy and Dan Levy have perfected their sibling dynamic, which often leads to the series' best conversations. David has had many hilarious and heartwarming moments over the last few seasons. David falling in love with Patrick has allowed the character to remain funny, but also show more sides of the character, like his vulnerability.
2. Alexis Rose (Annie Murphy)
Alexis has definitely lived. She has been kidnapped, was a teen model, and had so many more strange and unique experiences. Alexis often tells outlandish (but true) stories about her life prior to moving to Schitt's Creek. Alexis's mannerisms, dialogue, and characterization all make her one of Schitt's Creek biggest standout characters. Just as some of David's best scenes are with Alexis, most of Alexis' best scenes come from her interactions with David. Annie Murphy definitely captures the annoying, spoiled younger sister character well, but also gives Alexis a lot of compassion and heart that makes it easy to like her. Schitt's Creek's last couple of seasons have allowed Alexis to mature without losing the spark that makes Alexis such a fun character to watch.
1. Moira Rose (Catherine O'Hara)
Moira, the matriarch of the Rose clan, commands attention every time she's on the screen, and it's not just because she's a former soap star. Catherine O'Hara has created an iconic TV character with Moira. She's vain, shallow, and an opportunist who really cares and loves her family. Like most of the Rose family, the things Moira says are made ten times funnier with the manner in which she says them. Schitt's Creek is very much a series that relies on the actors to give their character's life. Most of the characters from the show (probably) wouldn't work as well without the actor's behind them.
Catherine O'Hara and Moira is one of the best examples of this. Most of Schitt's Creek is the best of Moira, so casually tuning in to any episode should result in seeing a great Moira moment. However, one of Moira's recent best episodes is Season 5, Episode 1, "The Crowening." Moira heads to Bosnia to film her crow movie. The movie is clearly going to be terrible, but Moira sees the film as a second chance, and she actually inspires the filmmaker to put effort into it. It's not only a hilarious episode but one that allows Moira to shine even more.
Schitt's Creek is currently airing it's final season on PopTV and the five previous seasons are available to stream on Netflix. (opens in new tab) We can't wait to see how the Roses, the Schitts, and everyone in between story ends on the Schitt's Creek finale.
Your Daily Blend of Entertainment News
Spent most of my life in various parts of Illinois, including attending college in Evanston. I have been a life long lover of pop culture, especially television, turned that passion into writing about all things entertainment related. When I'm not writing about pop culture, I can be found channeling Gordon Ramsay by kicking people out the kitchen.
Your Daily Blend of Entertainment News
Thank you for signing up to CinemaBlend. You will receive a verification email shortly.
There was a problem. Please refresh the page and try again.