The 10 Most Anticipated Romantic Movies Coming To Theaters In 2020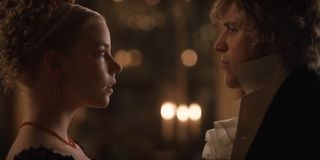 The year 2020 is shaping up to be a huge one for theatrical movies. With new Marvel and DC movies introducing new characters and worlds, big name directors producing movies for streaming services, and a ton of new comedies, dramas, and action films hitting theaters in 2020. This upcoming year seems to be the beginning of an exciting decade of films, and, in fact, highly anticipated romantic movies are among the most thrilling films being released in theaters in 2020.
Romantic comedies and dramas will be everywhere this year (e.g. as TV specials or streaming service originals), especially during Valentine's Day. However, for this list, we only included romantic movies that are being released in theaters, so movies like the sequel to To All The Boys I Loved Before and The Prom weren't included because they'll be released through streaming services like Netflix. Now let's take a look at all the sugary sweet, intense, sometimes funny, and engaging romantic films coming to theaters in 2020.
Barb And Star Go To Vista Del Mar (July 31, 2020)
In Barb and Star Go to Vista Del Mar, Kristen Wiig and Annie Mumolo play Barb and Star, two Midwesterner best friends who get out of their comfort zone by taking a trip to Vista Del Mar, Florida. The trip brings them love, adventure, and danger, as they try to stop a plot to kill everyone in Vista Del Mar. Barb and Star Go to Vista Del Mar's supporting cast includes Jamie Dornan (who plays Wiig's love interest), Damon Wayans Jr., and Wendi McLendon-Covey.
Barb and Star Go to Vista Del Mar adds to Kristen Wiig's exciting year of movies. In June, fans can catch her as Cheetah in Wonder Woman 1984. Then in July, this romantic movie comes out. It's Wiig second collaboration with writing partner Annie Mumolo; they also wrote the hit comedy Bridesmaids together. Going by Mumolo and Wiig's past work, we expect many outrageous comedic moments in Barb and Star Go to Vista Del Mar. The film will also have no shortage of female empowerment moments as well as some romantic ones, since we know Jamie Dornan has a past with them. Barb and Star Go to Vista Del Mar should be the fun summer romantic comedy that we need.
Emma (February 21, 2020)
Anya Taylor-Joy stars in the latest adaptation of Jane Austen's beloved novel Emma. Emma is a young socialite who uses her boredom and fortune to play matchmaker to some of the townspeople and her friends. Along the way, she discovers that her true love was there waiting for her the whole time.
Emma has been adapted for the big screen a few times, including with Gwyneth Paltrow playing the title character and with the modern take, Clueless. We're excited to see the latest story of Emma play out, mainly because of the interesting cast that includes Bill Nighy and Johnny Flynn, who is best known for his role on Netflix's Lovesick. The 2020 movie version of Emma definitely looks like it's staying close to the original novel, but adding a few elements to increase the comedic factor and make it more universal to audiences of all generations.
The Lovebirds (April 3, 2020)
Kumail Nanjiani, aka your next Marvel crush, and Issa Rae star in The Lovebirds, a romantic comedy about a couple on the brink of a breakup. The Lovebirds follows them as they get involved in a whodunit. They must survive the night, clear their names, and decide if their relationship can withstand this and everything else. Anna Camp from Pitch Perfect has a supporting role in The Lovebirds, as well.
Michael Showalter directed and wrote The Lovebirds. He previously directed Kumail Nanjiani in The Big Sick, and he directed the cult classic Wet Hot American Summer. The premise of The Lovebirds sounds a lot like the hit-comedy Game Night, but with the added tension of a near breakup. Issa Rae and Kumail Nanjiani have both played romantic leads, Kumail in The Big Sick and Rae in her HBO series Insecure. They're no strangers to combining romance and comedy, so we're excited to see the chemistry they have together in The Lovebirds, along with the hilarious hijinks that should ensue.
The Photograph (February 14, 2020)
The Photograph follows a young woman named Mae (Issa Rae) who receives letters from her deceased famous photographer mother. The letters detail her mother's struggles with love and life, which mirrors Mae's commitment issues. While Mae is discovering more about her estranged mother, Michael Block (Lakeith Stanfield), a journalist, enters Mae's life looking for more information about her mother. The two begin to fall in love as they explore her mother's past.
The Photograph appears to be a sexy romantic drama with Lil Rey Howery acting as the comedic relief. In 2020, Issa Rae is taking her place as a romantic movie-leading lady. Combine Rae's natural acting sincerity with Lake Stanfield's superb talent for character acting and you have a winning romantic combination. Courtney B. Vance and Chelsea Peretti also have supporting roles, and Emmy and Grammy Award winner Robert Andre Glasper provides the music for The Photograph.
The French Dispatch (2020)
Wes Anderson's latest film The French Dispatch follows an American journalist based in Paris after World War II who creates his own newspaper called The French Dispatch. The film tells a few different stories, some of which appear in The French Dispatch, and others about the journalist's fight for freedom of the press. Wes Anderson keeps his signature aesthetic by teaming up once again with cinematographer Robert Yeoman.
The French Dispatch has an all-star cast that includes some of his regular collaboration partners, like Bill Murray, Owen Wilson, Jason Schwartzman, Bob Balaban, and Frances McDormand. The French Dispatch also includes an array of new faces to Wes Anderson's world, like Timothee Chalamet, Jeffrey Wright, Kate Winslet, Elizabeth Moss, and Christoph Waltz. These are only a few of the many major Hollywood actors appearing in The French Dispatch: Wes Anderson really went all out with the cast.
Billed as a comedy/drama/romance, Wes Anderson's signature storytelling style and all-star cast makes this one of the most anticipated romantic comedies (especially as a love story to journalism) and movies of 2020. The current release date of The French Dispatch is unknown, but I would assume that this is most likely an Academy Award contender, so I expect it to hit theaters sometime in the fall for award season.
Happiest Season (November 20, 2020)
Carnivale, Argo and Veep actress Clea DuVall directs Happiest Season, a holiday romantic comedy about a woman (Kristen Stewart) who plans to propose to her girlfriend (Mackenzie Davis) only to discover that she hasn't come out to her conservative family.
Kristen Stewart has been building an impressive resume of comedy, drama, and action films, so I'm interested to see what she brings to Happiest Season, particularly given its an LGBTQ role for the actress. Mackenzie Davis has also been building her own impressive resume with appearing in the beloved episode of Black Mirror, "San Junipero," and having a series regular role on cult hit Halt and Catch Fire. Mackenzie Davis has also appeared in major motion pictures like Blade Runner 2049, Terminator: Dark Fate, and Tully. Davis and Stewart are great choices to navigate the complex narrative of a coming out story while still keeping things light and funny -- just in time for the holidays!
Monster Problems (April 17, 2020)
Monster Problems takes place in a post-apocalyptic world where monsters roam free. Teen Wolf's Dylan O'Brien plays Joel Dawson, a young man who must fight monsters to get to the woman he loves, Aimee (Jessica Henwick). Along the way, he meets Clyde (Michael Rooker) and Minnow (Ariana Greenblatt), and they teach him how to survive in this new world.
Monster Problems sounds like Zombieland meets Warm Bodies and the team behind the film describes the project as Zombieland in the style of a John Hughes teen movie. Because the original Zombieland and John Hughes movies are great, we're all for this new apocalyptic coming of age story. It's also reported that Paramount Pictures hopes to turn Monster Problems into a film franchise. That means they're going to pull out all the stops to make this monster adventure extra special.
West Side Story (December 18, 2020)
Steven Spielberg directs Ansel Elgort and newcomer Rachel Zegler in the latest adaptation of the hit Broadway musical West Side Story. Set in the 1950s in New York City, Tony (Ansel Elgort) and Maria (Rachel Zegler) fall in love, despite their cultural differences and affiliation with rival gangs.
Steven Spielberg's West Side Story is set to become one of the biggest films of 2020, with Ansel Elgort leading a cast full of relative newcomers, meaning the film is relying on talent more than star power. This makes West Side Story different from many other recent Broadway adaptations. Fans of the original West Side Story (and of Steven Spielberg) should be anticipating this version, especially because of Rita Moreno's involvement. The modern Romeo and Juliet story of Tony and Maria is one fans have loved for years, so we're excited to see if this new West Side Story lives up to the 1961 version.
Marry Me (2020)
Jennifer Lopez, Colombian singer Maluma, and Owen Wilson star in Marry Me, a romantic comedy based on Bobby Crosby's graphic novel of the same name. Marry Me follows international popstar, Kat Valdez (Jennifer Lopez) who finds out during her live wedding that fiancé, Bastian (Maluma), has been cheating on her. In a moment of panic, she randomly marries a stranger in the audience. This stranger is math teacher Charlie Gilbert (Owen Wilson). John Bradley and Sarah Silverman also have supporting roles in Marry Me.
The entire premise of Marry Me sounds hilarious. Owen Wilson's long history of comedic roles and Jennifer Lopez's excellent resume of romantic comedies, should really add a unique chemistry and hopefully they'll be a must-see duo. The release date of Marry Me is currently unknown, but I would expect it to come out sometime during the summer, because production has already wrapped and Marry Me just seems like a summer romance movie. Am I right?
Covers (May 8, 2020)
In Covers, Dakota Johnson plays an aspiring music producer who works for a legendary singer. Covers is a love story set in the Los Angeles music scene. The cast includes Tracee Ellis Ross, Kelvin Harrison Jr., and Bill Pullman. The Covers cast also includes Ice Cube, June Diane Raphael, Eddie Izzard, and Diplo.
Covers seems exciting because of the usage of current and former LA musicians like Diplo and Ice Cube. We're also assuming that Tracee Ellis Ross might play the legendary singer that Dakota Johnson's character assists, meaning Ellis Ross may have to channel her famous mother, Diana Ross, for inspiration with the film. Tracee Ellis Ross taking on a persona like that of the famous singer would add an even more fun element to Covers.
The movie schedule often changes as the year goes on, so be sure to keep an eye out on dates, given they sometimes change. In addition, I'm sure there are a few more romantic movies lurking somewhere in the 2020 movie schedule. So, if you are a romance fan, there should be a lot to look forward to in the coming year.
Your Daily Blend of Entertainment News
Spent most of my life in various parts of Illinois, including attending college in Evanston. I have been a life long lover of pop culture, especially television, turned that passion into writing about all things entertainment related. When I'm not writing about pop culture, I can be found channeling Gordon Ramsay by kicking people out the kitchen.