The 11 Best TV Shows Premiering In Early 2020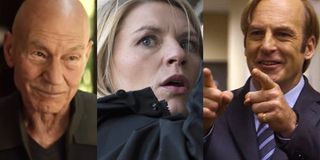 'Tis the season for 2019 midseason TV finales, but there are plenty of midseason 2020 TV premieres to look forward to in the new year. Plenty of TV shows are premiering new seasons in early 2020 and I'm focusing on the best of those premieres -- rather than, say, how Grey's Anatomy will return from its fall finale (but here's more about that).
We all have our favorites, but here are my picks for the 11 best TV shows premiering in early 2020.
Last Man Standing Season 8 (Fox)
Premiere date: Thursday, January 2, 2020 at 8 p.m.
He's baaaack. Tim Allen's Last Man Standing has had to fight to stay on TV, from being cancelled by ABC to being picked up but moved around by Fox. Every previous season of the sitcom had premiered in the fall, so fans wondered where was Last Man Standing in fall 2019? Well, it's coming -- on a new night. Fox held Season 8 for midseason 2020, but it will welcome the new year bright and early on the new night of Thursday. (WWE SmackDown took its spot on Friday.) Last Man Standing will air back-to-back episodes for three consecutive weeks starting January 2, meaning a full hour of Baxter family shenanigans.
Manifest Season 2 (NBC)
Premiere date: Monday, January 6, 2020 at 10 p.m.
They have a death date! That was one of the many mind-spinning reveals of Manifest Season 1's finale, which left fans with multiple cliffhangers. We haven't seen Melissa Roxburgh and Josh Dallas' Stone siblings since Season 1 ended in February 2019, so I am pumped to return to the mystery of Flight 828. Manifest returns after the premiere of America's Got Talent: The Champions Season 2.
The Bachelor Season 24 (ABC)
Premiere date: Monday, January 6, 2020 at 8 p.m.
I know, I know. For people who hate all things Bachelor Nation, The Bachelor premiere is nothing to get excited about. But for the rest of us ... it's still a guilty pleasure. Pilot Bachelor Peter Weber has finished filming his season. Spoilers hint to an interesting very drama-filled journey for The Bachelorette alum. Will you be watching and cringing along?
Criminal Minds Season 15 (CBS)
Premiere date: Wednesday, January 8, 2020 at 9 p.m.
Criminal Minds is starting its final season with a special two-hour premiere on January 8. There are only 10 episodes to Season 15, and Aisha Tyler teased the series finale will be "massive, explosive and transformative." You are not going to want to miss what happens.
The Outsider (HBO)
Premiere date: Sunday, January 12, 2020 at 9 p.m.
Lucky me that I happened to read this Stephen King book earlier in 2019. Check your local library to see if you can get The Outsider before the premiere of this miniseries. The 10-episode series starts with back-to-back episodes at 9 and 10 p.m. on Jan. 12. If Stephen King's name doesn't sell you alone, check out the all-star cast -- Ben Mendelsohn, Jason Bateman, Mare Winningham, Julianne Nicholson, Paddy Considine, Bill Camp, and Cynthia Erivo.
Star Trek: Picard (CBS All Access)
Premiere date: Thursday, January 23, 2020
Engage! Patrick Stewart's Jean-Luc Picard is back in a series set 20 years after his previous appearance in Star Trek Nemesis. He'll be joined by several Star Trek favorites, including many buddies from Star Trek: The Next Generation. Star Trek: Picard Season 1 will have 10 episodes and stream weekly every Thursday on CBS All Access in the U.S., and Fridays for international viewers on Amazon Prime, per IndieWire.
Brooklyn Nine-Nine Season 7 (NBC)
Premiere date: Thursday, February 6, 2020 at 8 p.m.
Cool, cool, cool, cool. Brooklyn Nine-Nine was cancelled by Fox after Season 5 but saved by NBC for Season 6. Now the Andy Samberg comedy is returning for Season 7 and the premiere will be a full hour, starting at 8. The following week, Brooklyn Nine-Nine Season 7 will air at 8:30 and keep that timeslot, with Superstore continuing at 8 p.m. NBC already renewed Brooklyn Nine-Nine for Season 8, and of course the cast is thrilled!
MacGyver Season 4 (CBS)
Premiere date: Friday, February 7, 2020 at 8 p.m.
Finally! The first three seasons of Lucas Till's MacGyver premiered in September, so fans were confused when the fall 2019 TV season came around and there was no MacGyver. He wasn't hiding like the stealth master he is, he was waiting his turn. CBS decided to hold the show for midseason and it's finally arriving February 7. The same night, Hawaii Five-0 will move to its new timeslot at 9 p.m. Magnum P.I. will return in the spring after MacGyver ends Season 4.
Homeland Season 8 (Showtime)
Premiere date: Sunday February 9, 2020 at 9 p.m.
Homeland is also ending its run in 2020. So many classic shows are leaving us! Season 8 has taken longer than expected, due to international production demands, per Showtime. The Season 7 finale aired in April 2018 so it'll have been almost two years between seasons. Season 8 was originally going to premiere in June 2019 but that didn't happen. Fans aren't in a great rush to say goodbye to Claire Danes' Carrie Mathison, and the absence has only made hearts grow fonder.
Outlander Season 5 (Starz)
Premiere date: Sunday, February 16, 2020 at 8 p.m.
You never really know when a new season of Outlander is going to show up. It's like a pleasant surprise each time -- Season 1 arrived in August, Season 2 and Season 3 in April, Season 4 came in September, and Season 5 arrived in November 2018. Now it's finally time for Jamie and Claire to show themselves for Season 5, which arrives just after Valentine's Day. Season 5 will adapt author Diana Gabaldon's fifth book The Fiery Cross, but may also have pieces from the next book, A Breath of Snow and Ashes. Season 6 has already been renewed, so we know there's more to come.
Better Call Saul Season 5 (AMC)
Premiere date: Sunday, February 23, 2020 at 10 p.m.
Yes! This is probably the show I'm most looking forward to in early 2020. Better Call Saul Season 4 ended with Bob Odenkirk's Jimmy McGill saying the words "s'all good, man," setting up the arrival of his Breaking Bad alter ego, Saul Goodman. Things are about to get good -- the best season yet, according to Odenkirk. Season 5 starts on Sunday after The Walking Dead before returning to its usual Monday night timeslot the next night at 9 p.m. If you can't watch Sunday, you can watch an encore of the premiere Monday, Feb. 24 at 8 p.m. before the new episode.
There are many more TV shows worth looking forward to in early 2020 -- and later in 2020, like when we'll finally get The Orville Season 3! Stick with CinemaBlend for the latest updates on all of the shows still airing in 2019 and coming soon in the new year.