No New One Chicago This Week, But Here's What's Next On Fire, Med, And P.D.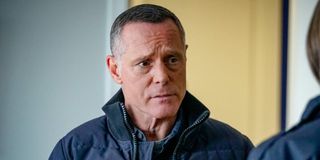 (Image credit: NBC)
One Chicago has made NBC the place to be on Wednesdays nights for some life-saving, fire-fighting, crime-solving action courtesy of Chicago Med, Chicago Fire, and Chicago P.D. Unfortunately for fans, One Chicago is taking this week off, and none of the shows will air a new episode on January 29. The good news is that NBC has released some details about what's in store with the next new episodes, airing Wednesday, February 5.
So, even though there's no new One Chicago this week, read on for what's coming next on the three Chicago shows!
Chicago Med: "Pain Is For The Living"
Chicago Med kicks off the One Chicago block on Wednesday night most weeks at 8 p.m. ET. Gaffney Med's ED has been as complicated as ever in the second half of Season 5. April and Ethan are engaged even though April kissed Crockett, Natalie had her heart broken, Will is possibly ruining his own career, and that's only some of what's happening! Here's what's happening in Episode 13 of Chicago Med Season 5, called "Pain Is For The Living" on February 5:
Ethan and April will be working with Dr. Charles on the case of two brothers, so maybe Med will take a break from the love triangle even though April still has unresolved feelings for Crockett. I'm a little surprised Will apparently isn't going to be a key player in a plot with two brothers considering his relationship with Chicago P.D.'s Jay, especially after Med just explained why the Halstead bros don't look alike, but he has a lot on his plate that could backfire on more than just him.
As for Dr. Charles, the loss of his wife wasn't so long ago, and her death may begin to impact more characters than just him. Will "Pain Is For The Living" show how Sharon is dealing with Caroline's death? And what about what goes down for the heroes at Firehouse 51 after Med?
Chicago Fire: "A Chicago Welcome"
Chicago Fire got off to a pretty gruesome start in Season 8, but after Severide survived his fight to the death and a big development on the Stellaride front, things are looking up in the 9 p.m. ET block on One Chicago Wednesday. The February 5 episode of Fire will apparently have a lot going on, and it probably won't be the darkest episode of the season considering what's coming in the Chicago P.D. crossover. Here's what "A Chicago Welcome" has in store:
It's not hard to understand how a new fire truck could bring both chaos and joy! The episode description doesn't confirm if the new fire truck is actually for Truck, or if it is instead for Engine or Squad. I can see the two crews who didn't get a new truck being a little bitter that they didn't get the upgrade! The description also doesn't give away the identity of the "old foe," but it's interesting that Boden and Severide are the ones who need to make peace, without Casey involved.
Will Foster's party involve her friends from med school after she recently saw they'd reunited? And is Brett's family news good or bad? She may not be able to count on Casey for the comfort she needs if the news is bad. Find out in "A Chicago Welcome" at 9 p.m. ET on NBC February 5! And what about what follows Chicago Fire?
Chicago P.D.: "I Was Here"
Chicago P.D. has been living up to its reputation as the darkest One Chicago series in the second half of Season 7, even if Jay Halstead didn't die as a result of the bloody fall finale cliffhanger and there seem to be a surprising number of potential romances brewing. Upton took a dark turn that has even Voight worried about her, Darius Walker was brutally killed off, and Burgess has been putting herself on the line despite her pregnancy. "I Was Here" suggests Burgess isn't done:
Compared to the episode summaries for Chicago Med and Chicago Fire, Chicago P.D. doesn't give a whole lot away with regard to "I Was Here." That said, episodes of P.D. tend to primarily revolve around one particular member of Intelligence each week, which isn't necessarily the case with Med and Fire. So, we can probably safely assume that this is a Burgess-centric episode with the rest of Intelligence in the mix, though not in the spotlight.
The description stating that Burgess will enlist Intelligence's help after an upsetting 911 call indicates that she has finally accepted desk duty due to her pregnancy, but episode images (like the one seen above) combined with the episode trailer prove that she'll go back into the field and even kick down a door. She may have a bun in the oven, but she's not ready to sit back and let others do all the work! Hopefully her pregnancy isn't impacted by her rushing into danger again.
Find out when the "I Was Here" episode of Chicago P.D. airs Wednesday, February 5 at 10 p.m. ET on NBC. The upcoming crossover between Chicago P.D. and Chicago Fire will bring back somebody from P.D.'s past, and Fire showrunner Derek Haas explained to CinemaBlend that Fire tends to "subsume" P.D.'s darker tone more than P.D. takes on Fire's optimism, so the crossover should be must-see TV.
Resident of One Chicago, Bachelor Nation, and Cleveland. Has opinions about crossovers, Star Wars, and superheroes. Will not time travel.
Your Daily Blend of Entertainment News
Thank you for signing up to CinemaBlend. You will receive a verification email shortly.
There was a problem. Please refresh the page and try again.