How Many Chicago P.D. Romances Are Happening In Season 7 After Upton's Reveal?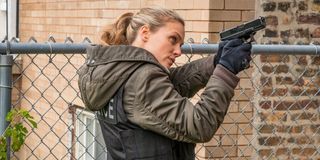 (Image credit: NBC)
Spoilers ahead for the winter premiere of Chicago P.D. Season 7 on NBC, called "Mercy."
Chicago P.D. ended its fall finale in November on a massive cliffhanger even by One Chicago standards, with Jay Halstead possibly mortally wounded just after Hailey Upton found and seemingly rescued him. For those who were convinced by Jesse Lee Soffer's teases that Jay could die from his wounds, the "Mercy" reveal that he would survive after some surgery and recovery must have come as a welcome surprise. The reveal also came with some commentary on Upton's feelings for her partner. Coupled with Burgess' decision about her pregnancy, I have to wonder: how many Chicago P.D. romances are in the works this season?
Chicago P.D. has set the six younger cops of Intelligence into three pretty distinct pairings by this point: Burgess and Ruzek, Upton and Halstead, and Atwater and Rojas. In "Mercy," the plot thickened for two of these pairs, and even the third a little bit if you decide to squint. So, let's jump into the romantic twists that are or could be happening in Season 7, and the odds of them actually happening. Since "Mercy" delivered a big development on the Upstead front, let's start there.
Hailey Upton And Jay Halstead
Upton spent most of the fall finale alternating between kicking ass and quietly panicking that her partner was going to die before Intelligence managed to find and save him. Nobody quite commented on her distress, but it was clear that people noticed, including her ex in what could have been a very awkward scene. Then, in "Mercy," Rojas got Upton to admit she loves Halstead. While Upton said that "of course" she loves him because he's her partner, Rojas clearly thought there was more to it, and Upton didn't go the extra mile to convince her otherwise.
Throw in the scene at the end of the episode that saw Upton almost tell Halstead something important, only to be stopped when she had to talk Jay down from answering a call from Angela's son and possibly getting himself back into the same mess he barely survived the first time around, and it's looking like that "wake-up call" teased by Jesse Lee Soffer woke Upton all the way up. Considering Halstead had a habit of gazing at Upton starting back in Season 6, the sparks between them catching flame seems more and more likely.
But will a romance actually happen? Well, showrunner Rick Eid teased the possibility it could happen in Season 7, and it's not like Upton or Halstead have avoided dating within the Intelligence Unit in the past. They're already close as friends and partners, so it wouldn't be a huge leap for them to take a step in the romantic direction. And they do have a "thing that works" to get each other through the toughest times.
That said, a romance might not be the best idea, and Upton herself may have realized that at the end of "Mercy" when she backed off quite possibly confessing her feelings to Halstead after having to talk him out of making another bad decision. A self-aware Hailey Upton who decided to nix a romance with Halstead? She would be a formidable obstacle toward anything actually happening. Personally, of the three potential pairings within Intelligence, my money is on Upton and Halstead not happening in Season 7. Besides, we technically don't know what she wasn't going to say to Halstead. Her love reveal was just a confirmation to Rojas without much clarification.
Let's move on to the next pairing.
Kim Burgess And Adam Ruzek
Burgess and Ruzek already hooked up in Season 7, so it's not exactly a gamble for me to say that their romantic odds aren't too shabby. That said, their night together in Season 7 was evidently just that: a night together between coworkers who just went through a flesh-eating bacteria ordeal and had been a couple in the past. So the hookup wasn't a rekindling of their relationship, and neither of them was exactly over the moon at the news that Burgess is pregnant.
In fact, Burgess wasn't even sure she wanted to remain pregnant, and Ruzek was determinedly not trying to sway her in one direction over the other. Now that she's decided to keep the baby, as of "Mercy," anything can happen. They are exes who were once engaged, and even Ruzek's somewhat bizarre relationship with Upton in Season 6 doesn't seem to have stopped them from loving each other. Now that Burgess intends to have their baby, something is going to have to give, especially if she and Ruzek don't plan on keeping the father a secret when the truth inevitably comes out.
The truth may not come out to everybody too soon, though. Actress Marina Squerciati revealed the next person who will learn about the pregnancy, and her comments suggest that Burgess wants to keep the secret from Voight for as long as possible to avoid being benched from the action in Intelligence. She also hasn't been keeping Ruzek entirely involved in her process, and I'm guessing he'll only handle that well for so long.
So will their relationship turn truly romantic again, or will they be two exes who work together and just so happen to be having a baby together? I'd give them better odds than Upton and Halstead for several reasons, certainly not the least of which is the bun in the oven that's a constant and very literal reminder of what they had and could have together. There's also a time crunch for them to work out any issues, if we assume they want to avoid too many complications as Burgess gets further along. If any duo on P.D. has a push to get their romantic act together ASAP, it's these two.
As for the duo with the least amount of baggage and not facing a time crunch?
Kevin Atwater And Vanessa Rojas
On the one hand, Atwater and Rojas have by far the fewest hints at a potential romance from within episodes of Chicago P.D. Burgess and Ruzek have multiple seasons of romantic connections, and Upton and Halstead have always had a strong bond as partners. Atwater and Rojas haven't known each other that long, seemingly aren't official partners, and there have been no gunshot wounds or pregnancies to force serious revelations.
On the other hand, Atwater and Rojas arguably have the most support from interviews and teases of any of the potential inter-team romances. Showrunner Rick Eid was hyping a romance within Intelligence before Season 7 even premiered, and he later more or less revealed that potential romance as Atwater and the newcomer who was facing a difficult transition as she stepped into Antonio's shoes after his departure.
As if that wasn't enough, Atwater actor LaRoyce Hawkins shared that P.D. can "do something very different" with Atwater and Rojas, and it sounded like there were some pretty definite plans for a romance there. Atwater and Rojas have spent some time together, working cases and following the "Infection" crossover. The stage is kinda sorta set for them to start something, if we're going off of interviews, and there are fewer reasons for them not to give it a shot than the other two potential pairings.
So, what's in store on the romance front? Will the Intelligence Unit be teeming with hormones, or will none of these pairings happen in Season 7? We can only wait and see. Chicago P.D. has always been more about crime, corruption, and investigation than anything else, so relationships may not receive much focus at all.
Still, things will have to change now that Burgess plans on remaining pregnant, and it's possible that Upton is in for a new partner, so be sure to tune in to NBC on Wednesdays at 10 p.m. ET for new episodes of Chicago P.D., following new episodes of Chicago Fire at 9 p.m. ET and Chicago Med at 8 p.m. ET.
Resident of One Chicago, Bachelor Nation, and Cleveland. Has opinions about crossovers, Star Wars, and superheroes. Will not time travel.
Your Daily Blend of Entertainment News
Thank you for signing up to CinemaBlend. You will receive a verification email shortly.
There was a problem. Please refresh the page and try again.