Chicago Fire Spoilers: Will Chief Boden's Loyalties Be Tested In Season 8?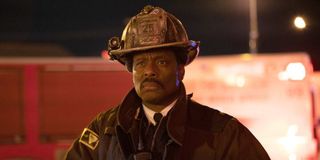 (Image credit: NBC)
Spoilers ahead for the January 15 episode of Chicago Fire, called "Where We End Up."
The tension between Firehouse 51 and Firehouse 20 from the winter premiere escalated in "Where We End Up" thanks to an infestation of bedbugs that forced the two teams to operate under one roof for a shift. A clash at the scene of a crisis made things worse, as Casey and Captain Delaney fought for control of the scene, although Delaney ultimately yielded. Unsurprisingly, Boden seemed inclined to back Casey, but Delaney reminded him of something fans don't often see on Fire: Boden is battalion chief for more houses than 51, and being based out of 51 doesn't mean he should show favoritism. Will his loyalties be tested?
Boden is rarely in a situation to show blatant favoritism toward the firefighters and paramedics of Firehouse 51, and fans are probably inclined to overlook examples of favoritism because we're following the adventures of the 51 crew, not 20 or any other house. Many of us are going to side with Casey, Severide, and Co. if the tension rises. Given that Boden takes his job very seriously and he got a valid reminder that he shouldn't automatically back 51 just because that's where his office is and those are the characters he spends the most time with, it's not impossible that he'll start approaching things differently.
While it could be strange to see Boden not leaning in Firehouse 51's favor in the event of a crisis, it would also be hard to blame him. His job is to manage a lot of firefighters, and the stakes of these jobs are all very high. "Where We End Up" proved that firefighters are not without their tempers and egos, and Casey and Delaney nearly came to blows shortly after they started sharing the roof of Firehouse 20. If not for Boden stepping in, things could have gotten a lot uglier than just tension and bedbugs. And that's not how it should be, right? We do know that changes to Fire are coming.
Of course, the 51 and 20 crews aren't going to be clashing week in and week out, as Firehouse 51's bedbug problem was never going to last forever and Casey and Delaney bonded after fighting out of a fiery crisis together. This specific conflict might not test Boden's loyalty to 51 anymore, but could the reminder that he can't automatically side with one captain over the other linger? Boden has ambitions of his own, and "Where We End Up" proved that he's interested in aspects of work in the CFD beyond his current duties as battalion chief.
In fact, realizing that a former student had been diagnosed with cancer due to substances and smoke encountered during his work as a firefighter could prompt Boden to reevaluate a lot of his life, including his job. Will he look closer at the bigger picture beyond the apparatus floor of Firehouse 51 moving forward, or was this a standalone incident of Boden needing to see two sides of a story? The upcoming crossover between Fire and P.D. could present new challenges for all the characters involved, Boden included.
Find out with new episodes of Chicago Fire on Wednesdays at 9 p.m. ET, between new episodes of Chicago Med at 8 p.m. ET and Chicago P.D. at 10 p.m. ET in the winter premiere lineup.
Resident of One Chicago, Bachelor Nation, and Cleveland. Has opinions about crossovers, Star Wars, and superheroes. Will not time travel.
Your Daily Blend of Entertainment News
Thank you for signing up to CinemaBlend. You will receive a verification email shortly.
There was a problem. Please refresh the page and try again.