Law & Order: SVU Will Deliver A 'Bittersweet' Reunion For Mariska Hargitay's Olivia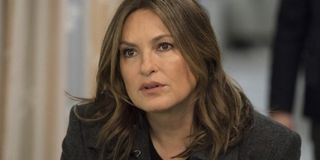 Law & Order: SVU is about to give Mariska Hargitay's Captain Olivia Benson a reunion she won't soon forget. Three years after their break-up, Olivia will find herself back in the orbit of former boyfriend Ed Tucker in the Season 21 episode "The Longest Night of Rain." While this isn't the first time Olivia has been reunited with an ex, Law & Order: SVU showrunner Warren Leight previews that Ed's return will be "bittersweet" for Olivia.
After nearly a year of dating, Olivia and Ed called it quits back in Season 18, because Ed wanted to retire while Olivia was growing more committed to her job. Plus, she had to think about her son Noah. Despite the logical reasons for their split, it was a difficult decision to make at the time. Olivia has taken emotional strides since then and is now captain of the Special Victims Unit, and Ed's life is unsurprisingly also different now. Warren Leight weighs in on what to expect from Olivia and Ed's reunion. In his words:
"Moving on" can be taken in a myriad of ways. Is Ed in another relationship now, or maybe even married? While Robert John Burke is wearing a wedding ring in preview images from the episode, SVU's showrunner joked with Give Me My Remote that he's always reminding actors "to take their damn wedding rings off."
However, I believe that the ring does indicate Ed's current relationship status, and that it will be a major sign of Ed moving beyond his past with Olivia. It would be weird for him to be wearing the ring in these scenes otherwise. While the exes haven't kept track of each other in the years since their break-up, Warren Leight tells how the changes in Ed's life will affect Olivia. Per Leight:
It sounds like Olivia will be thrown by Ed's reappearance in a major way, and I wonder if the changes in her life will be just as "explosive" for him. She's obviously gotten even further away from retirement by climbing higher in the ranks. Either way, the episode will hopefully answer all these questions and more.
Law & Order: SVU's "The Longest Night of Rain" airs Thursday, January 30 at 10 p.m. ET on NBC. For more on what to watch, be sure to check out our 2020 midseason schedule for updated premiere dates on times.
Your Daily Blend of Entertainment News