CBS News Responds To Threats Against Gayle King After Controversial Interview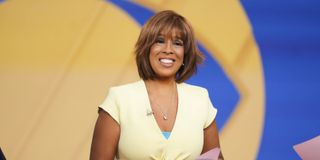 (Image credit: CBS News)
CBS This Morning's Gayle King made headlines in early February due to an interview discussing the late Kobe Bryant's legacy with former WNBA star Lisa Leslie. In a clip of the interview that was shared by CBS, King asks Leslie about the rape charge filed against Bryant back in 2003. A number of people reacted to King's question coming so soon after the death of Bryant, his daughter, and seven others. King has apparently faced threats in the backlash to the interview, and CBS News responded.
CBS News President Susan Zirinsky addressed the "reprehensible" threats to the Associated Press, saying this:
CBS News didn't disclose any specific or private threats against Gayle King when addressing what was happening to the CBS This Morning host after the interview clip (which King stated was released out of context). King was the subject of criticism of a number of high-profile individuals and her day-to-day life was impacted by how she was threatened, according to King's friend Oprah Winfrey.
According to Oprah Winfrey (via AP), Gayle King "is not doing well," has begun traveling with security because of threats she has received, and in fact "feels very much attacked."
Gayle King attempted to clarify that the clip was taken out of context and that she too would have been "angry" if all she'd seen of the interview was that brief bit. King also shared that she was "very angry" that "unbeknownst to" her, CBS shared the out-of-context clip. On February 6, a CBS News spokesperson weighed in on the situation and explained that the team was "addressing the internal process that led" to the clip being posted without context and "changes have already been made."
Still, some very high-profile criticism was directed at Gayle King via social media. A video of Snoop Dogg addressing the situation includes the statement "before we come get you," although he later posted a follow-up on Instagram clarifying that he didn't want any harm to come to King and he didn't threaten her, but he feels she should "have a little bit more respect" for Kobe Bryant's family and legacy.
50 Cent also weighed in with a video criticizing Gayle King's interview, and LeBron James tweeted in support of Lisa Leslie. While none of these men threatened King, their messages got a lot of attention. What about those who have threatened Gayle King to the point that she now must travel with security?
Only time will tell if the backlash will die down in the coming weeks. Kobe Bryant's death was a shocking tragedy, and it prompted responses ranging from those he collaborated with on an Academy Award-winning project to Planters with its plans for Mr. Peanut. Although some of the reports on Bryant's death were more accurate than others, there's no denying that Bryant left behind a strong legacy and a lot of loyal fans.
Resident of One Chicago, Bachelor Nation, and Cleveland. Has opinions about crossovers, Star Wars, and superheroes. Will not time travel.
Your Daily Blend of Entertainment News
Thank you for signing up to CinemaBlend. You will receive a verification email shortly.
There was a problem. Please refresh the page and try again.