'Mortified' Gayle King Calls Out CBS For Sharing Out-of-Context Interview Clip About Kobe Bryant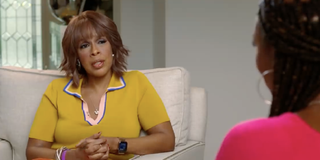 In the wake of Kobe Bryant's death, CBS This Morning host Gayle King conducted an interview with former WNBA star Lisa Leslie to discuss the late basketball player's legacy. After CBS shared a clip from the interview, King received backlash for asking Leslie about a past rape charge filed against Bryant, who died in a helicopter crash on January 26. However, a "mortified" King took to social media to defend herself and to offer further context surrounding her interview with Leslie.
During a sit-down interview to discuss the late Kobe Bryant's life and career with Lisa Leslie, Gayle King brought up the sexual assault allegations brought against Bryant in 2003. The late basketball player was charged by a then 19-year-old woman with raping her in a hotel room. The case was dropped in 2004.
In the interview excerpt, Gayle King asked Lisa Leslie about the case, wondering if it "complicated" Bryant's legacy. Leslie didn't think Kobe Bryant would "violate a woman or be aggressive in that way." King pressed on, telling Leslie that "as his friend, you wouldn't see it." In two videos posted to Twitter, the CBS This Morning host called out CBS for the out-of-context video, claiming there was more to the conversation that didn't make the cut. Here's what she said:
Gayle King continued, saying that the interview was "wide-ranging" and that the court case did come up and, as a "friend who knew him well," King wanted Lisa Leslie's perspective on the matter. King also stated that she asked several follow-up questions to reaffirm Leslie's position on the matter, which wasn't seen in the interview excerpt. In her words:
In a second video posted to Twitter, Gayle King shared her reaction to the interview and CBS' handling of the clip's release without context and that she wanted people to hear from her directly instead of watching her read a "prepared remark." Here were here some of her final thoughts on the matter:
The interview that aired with Lisa Leslie was five and a half minutes long. Gayle King also added that she herself had interacted with Kobe Bryant on several occasions and that the last thing she wanted to do was "disparage him at this particular time" and that she hopes people "understand that." You can watch her interview with Leslie below.
Gayle King's response to CBS airing the clip without context has already received a lot of attention on social media, which is unsurprising considering the interest in Kobe Bryant's legacy in the wake of his tragic death. Will CBS change how it handles footage and provide specific context as a general rule in the future?
Only time will tell, but a CBS News spokesperson weighed in via a statement to TVLine:
Hopefully the way CBS News addresses the internal process and made the changes satisfies Gayle King. She was clearly upset at the way her interview was portrayed; perhaps something as simple as greater context will provide the fix that will accurately represent how the conversation actually happened.
For now, you can catch Gayle King on CBS This Morning, airing weekdays on CBS. For some more viewing options now and in the not-too-distant future, take a look at our 2020 winter and spring premiere schedule.
Your Daily Blend of Entertainment News
Thank you for signing up to CinemaBlend. You will receive a verification email shortly.
There was a problem. Please refresh the page and try again.