6 Things The Parasite HBO Series Can Learn From Fargo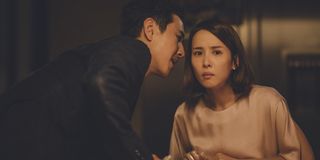 Parasite made history at the 92nd Academy Awards when it took home Oscars for Best International Feature Film and Best Picture. This is the first time a film has won both. Prior to the Academy Awards, Parasite made a big international debut, breaking Box Office and international award ceremony records. The film's acclaim made HBO take notice: The premium channel bought the rights to make Bong Joon-ho's Oscar winning movie a limited TV series. Only time will tell if Parasite has the same success as other movie to TV series adaptations like Fargo.
In 1996 and 1997, Fargo received similar award season attention. Ethan and Joel Cohen, like Bong Joon-ho, won the Academy Award for Best Original Screenplay and several other major awards. Nearly 20 years later, FX adapted Fargo into a television series. The show has been a major hit for FX, receiving critical acclaim and award season recognition. Critics and fans love Fargo because it is a violent, laugh-out-loud excellently written series with engaging, unique characters.
Of the recent film to TV adaptations, Fargo has been one of the most successful, which is why HBO, Bong Joon-ho, and the Parasite TV team should consider referencing it when developing the new Parasite series.
Use Setting As A Character
The Midwest (at least the cinematic depiction of it) has a distinct identity. Fargo uses this identity to develop the personalities, morals, and traits of the series' core characters. The landscape and Midwestern values drive the themes of each season. Characters like Lester Nygaard (Martin Freeman), and Peggy (Kirsten Dunst) and Ed Blumquist (Jesse Plemons) feel weird, yet authentic, when placed in Minnesota and the Dakotas. Additionally, part of the fun of Fargo is watching these seemingly nice, normal Midwesterners turn into ruthless criminals.
Parasite's main theme of the suffocating and limiting nature of the class system works in any country. However, Bong Joon-ho made Parasite because of his own fears and experiences growing up and living in South Korea. The film has a distinct Korean DNA with its themes, setting, cinematic tropes, and characters. Little details, like the scholar's rock, don't quite translate to an American audience because that's not something most Americans know about. Bong Joon-ho weaves little details like this all throughout Parasite. Seoul and Korean culture is a very important part of Parasite's identity.
The Australian rich family mentioned at the end of Parasite, the ones who now own the Park family's former home, allows Bong Joon-ho and Adam McKay a seamless way to incorporate English-speaking actors into the Seoul setting. The series could follow this family throughout the series, or it could show more rich English speaking families living in Seoul. This gives Parasite the series more of an appeal to the HBO audience that fears reading subtitles, but without hindering the films Korean roots.
Adapt The Anthology Style
Each season, Fargo takes place in a different era with mainly new characters. This allows the concept to stay fresh and attractive to actors who might not want to commit to a six-year contract. Parasite already seems to be on track for an anthology style with the series' plans to make it a six-episode limited series. Bong Joon-ho told the Hollywood Reporter that he had ideas from the initial script that he wanted to expand upon in the HBO series.
This likely means we'll get more background information on some of the characters, and learn about some of the things not fully addressed in the Parasite movie, like how the Park's original housekeeper, Moon-gwang (Lee Jeong-eun) received her scars before returning to the Park's home. If Parasite expands to include multiple seasons, it should also expand on different elements and parts from the original movie with a new cast each year.
Hire An Exceptional Cast And Crew
Fargo has included an array of talented actors. The three seasons have included actors such as Billy Bob Thornton, Patrick Wilson, Ted Danson, Allison Tolman, Kirsten Dunst, Ewan McGregor, and Chris Rock in the upcoming season. Fargo has an exceptional main cast, but also an equally exciting selection of supporting characters. Each casting choice works and adds to the show's overall tone and narrative. Parasite already has two major casting rumors. The first is Tilda Swinton, who has collaborated with Bong Joon-ho on multiple projects, and Mark Ruffalo. Both casting choices, if later confirmed, are pretty solid starts.
Fargo's overall picture also works really well because of Noah Hawley's leading voice as the show's head writer and creator. Bong Joon-ho plans to act as executive producer alongside Adam McKay. Adam McKay has a rich history of political satires, from recent movie projects like Vice and The Big Short to HBO's hit-series Succession. Parasite the TV series is off to a good start with cast and production team, so hopefully it continues this momentum and uses the same dedication to casting decisions as the Fargo team.
Set The Show In The Parasite Movie Universe
Fargo's three, soon-to-be four, seasons tell different stories than the one told in the 1996 movie. However, it uses many elements of the movie to show that all five stories exist in the same world. There are references to the Fargo movie that lets you know these films operate in the same realm. Parasite should take a similar approach to the series. It should reference characters, moments, themes, etc. of the original work to show that it's all connected, but it shouldn't feel the need to be a direct adaptation.
From Bong Joon-ho's interviews, it seems like he wants the Parasite series to be a direct expansion of the movie. This is great and we would love to watch that, but if Bong Joon-ho ends up making multiple seasons of the Parasite series, or decides to take a different direction that his original plan, we would be on board for that as well, especially to see how far Parasite grows.
Set It In Different Periods
Fargo takes place in 2006, 1979, 2010, and 1950. These varying years allow the series to address the issues of the season, while framing them in the global, social, and political issues that plagued or defined the country at specific times. The imbalanced class system and the problems that has caused has always been a major issue all across the world since earth began. The Parasite series could take place in any decade or century and work. It would also be interesting if the Parasite show explored the Park and Kim parents' lives as children and teens, to show how their social status influenced their upbringing and ultimate fate.
It would also be interesting if Bong Joon-ho shows his vision of the future and sets the Parasite series in the very far future, either to further explore the Kim's new situation or to show a doomsday universe that Bong Joon-ho envisions for the future if the barriers of the class system continues, sort of like Snowpiercer.
Use Characters To Drive The Storylines
Fargo's cast of characters is the best part of the show. Parasite as a TV series could be even more compelling if it's builds the characters first, and then focus on the storylines for the season. The Park and Kim families are both filled with very interesting characters, so Parasite should start with them (or new characters) and build from there. One of the reasons that TV is such a compelling medium is because it allows characters to really grow and develop over the course of many hours, whereas movies limit how much the audience learns and can watch a character evolve. Parasite should capitalize on the serial style to really let fans get to know his characters.
We may have to wait awhile before the Parasite series debuts, but the movie is still available to buy or rent on most major streaming services, like iTunes and Amazon Prime Video. Stream it HERE (opens in new tab). The first three seasons of Fargo are available to stream on Hulu. Watch it HERE (opens in new tab). The fourth season of Fargo premieres on April 19 on FX.
Your Daily Blend of Entertainment News
Spent most of my life in various parts of Illinois, including attending college in Evanston. I have been a life long lover of pop culture, especially television, turned that passion into writing about all things entertainment related. When I'm not writing about pop culture, I can be found channeling Gordon Ramsay by kicking people out the kitchen.
Your Daily Blend of Entertainment News
Thank you for signing up to CinemaBlend. You will receive a verification email shortly.
There was a problem. Please refresh the page and try again.